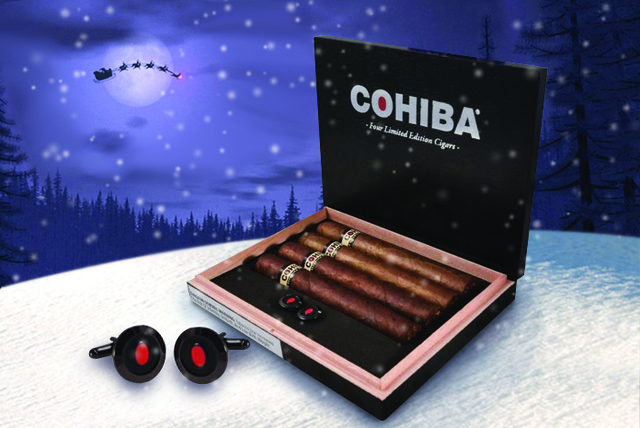 Cohiba cigars are some of the finest cigars of the world, and the Cohiba Holiday Limited Edition Gift Pack may be the finest and most elegant Cohiba gift set ever created! Why? Well, aside for the four limited edition cigars, it includes a pair of luxurious cuff-links featuring the classic Cohiba "Red Dot" logo that will have you looking as classy as the cigars themselves
Gift Set Includes:
2 Cohiba Limited Edition 6×52
2 Cohiba Limited Edition 6×54
2 Exclusive Cohiba cuff-links
Acquiring this amazing gift sampler set is for any lover of the My Father Cigar line or for anybody who just wants to try an array of cigars from the line. Also included is a free lighter and cutter will have you smoking in no time!
Gift Set Includes:
Don Pepin Garcia Original Cigar
Jaime Garcia Reserva Especial Cigar
La Antiguedad Cigar
El Centurion Cigar
Don Pepin Garcia Series JJ Cigar
My Father Cigar Cutter
My Father Lighter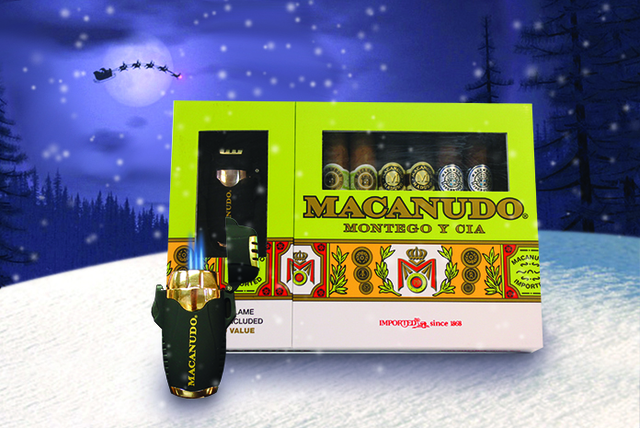 Macanudo Holiday Gift With Torch Lighter
Macanudo Holiday gift set is the perfect gift this holiday season! Featuring 6 cigars that gives you a real taste of what the Macanudo brand has to offer. In a set with a really cool Macanudo branded triple flame lighter that is included in this gift set!
Gift Set Includes:
2 Macanudo Café
2 Macanudo Cru Royale
2 Macanudo Maduro
1 Triple Flame Lighter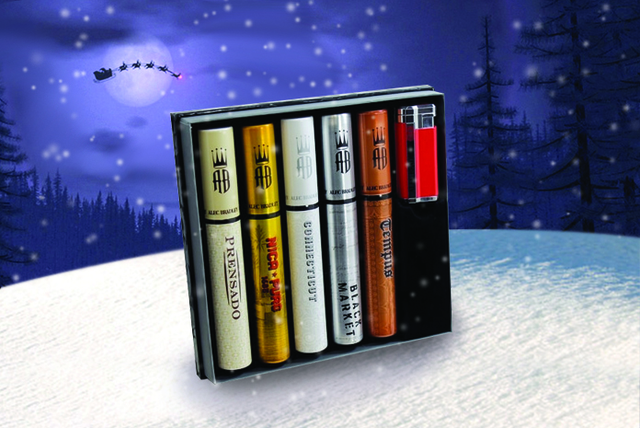 Alec Bradley samplers are the way to go if you are looking for good, quality taste and flavor from a premium cigar maker. Each of these samplers are as unique as the tobacco used to construct them. From individual tubes, to cellophane wrapped, to special collectors editions with lighters, these are a great gift for your humidor and a wonderful addition to your smoking den
Gift Set Includes:
Alec Bradley Prensado Tubo 6 1/2×52
Alec Bradley Nica Puro Tubo 6 1/2×52
Alec Bradley Connecticut Tubo 6 1/2×52
Alec Bradley Black Market Tubo 6 1/2×52
Alec Bradley Tempus Tubo 6 1/2×52
Alec Bradley Hendrix triple torch lighter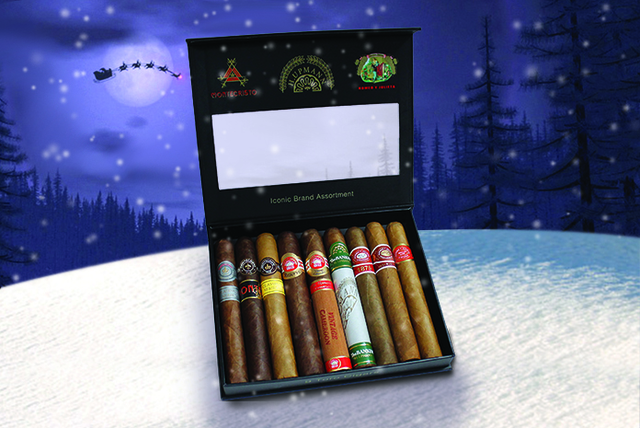 Bring home the most Iconic brands and smoke away with Cuban Heritage brands that provide very smooth and complex flavor!
Gift Set Includes:
1 Montecristo Toro Platinum
1 Monte by Monte Toro
1 Montecristo Classic Toro
1 H Upmann Reserva 1844 Toro
1 H Upmann Banker Toro
1 H Upmann Vintage Cameroon Toro
1 Romeo Y Julieta 1875 Toro
1 Romeo Y Julieta Reserva Toro
1 Romeo Y Julieta Vintage Toro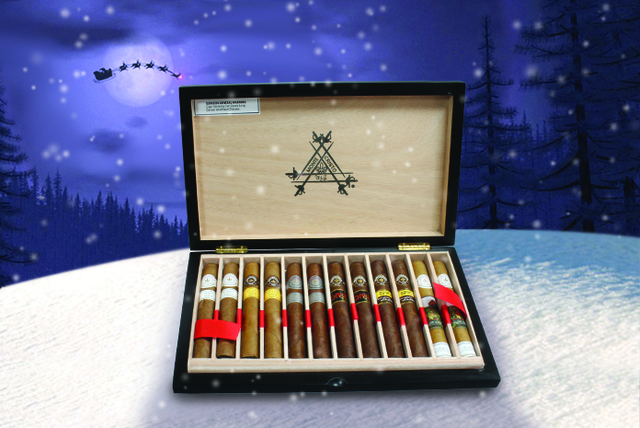 Montecristo Toro Sampler Pack of 12 is a stunning gift set! Packaged in a beautiful Montecristo branded box. This is a perfect gift for any Montecristo fan, or as an introduction to the different blends that Montecristo has to offer
Gift Set Includes:
2 Monte By Montecristo Toro 6×52
2 Montecristo Epic Toro 6×52
2 Montecristo Classic Collection Toro 6×52
2 Montecristo White Toro 6×46
2 Montecristo Platinum Series Toro 6×50
2 Montecristo White Vintage Conn Double Corona 6 1/4×52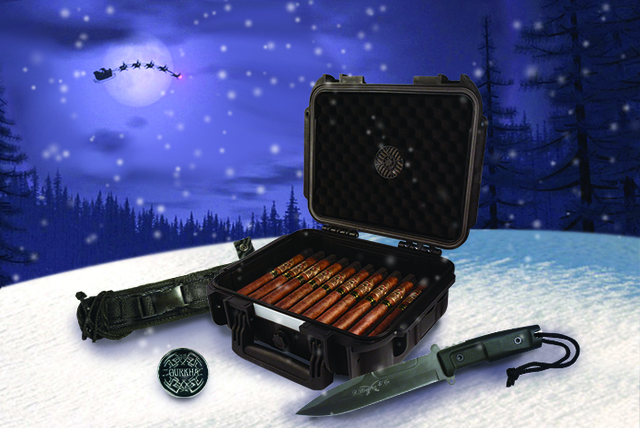 This thing is BAD ASS. It comes packed with 20 amazing Churchill cigars! This also features a stunning knife. I mean this thing is something out of crocodile Dundee (that isn't a knife, THIS IS A KNIFE!) with a 7 7/8″ fixed tactical blade knife comes standard with a leg sheath for the most tactical cigar smoker. All of this packed inside of a water tight travel humidor big enough to bring enough cigars with you for all your friends and their friends too!
Gift Set Includes:
20 Gurkha Specs Ops Churchill 7 1/2 x 52
Gurkha Specs Ops Tactical Knife
Waterproof Travel Humidor 12 1/4″ W x 10 1/4″ D x 5.375″ H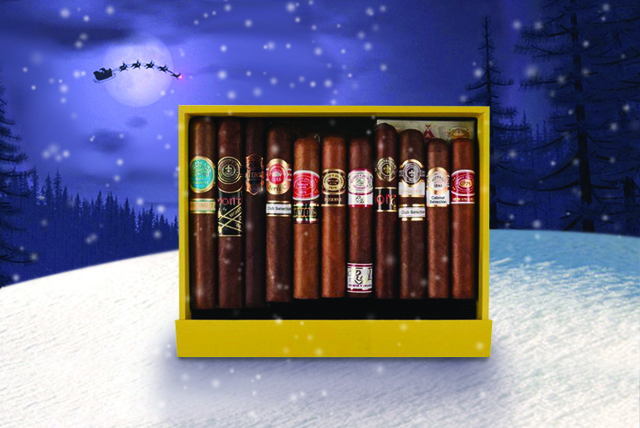 This Christmas bring a little piece of the tropics home with you with the Cuban Christmas 22 Cigar Super Sampler. Featuring 2 each of 11 of the best cigars from the Cuban heritage brands Romeo Y Julieta, Montecristo, Gipert, & H. Upmann, put the winter chill behind you and enjoy the warmth of a Cuban Christmas
Gift Set Includes:
2 AJ Fernandez H. Upmann Toro
2 AJ Fernandez Monte by Monte Toro
2 AJ Fernandez Gispert Intenso
2 H. Upmann Sserie C Club Selection Toro
2 Romeo Y Julieta Havoc Robusto
2 Romeo Y Julieta Reserve Robusto
2 Romeo Y Julieta RYJ Nicaragua Robusto
2 Monte By Montecristo Conde
2 Montecristo Desde 1935 Edmundo
2 H. Upmann Cabinet Seleccion Robusto
2 Romeo Y Julieta Reserva Real Robusto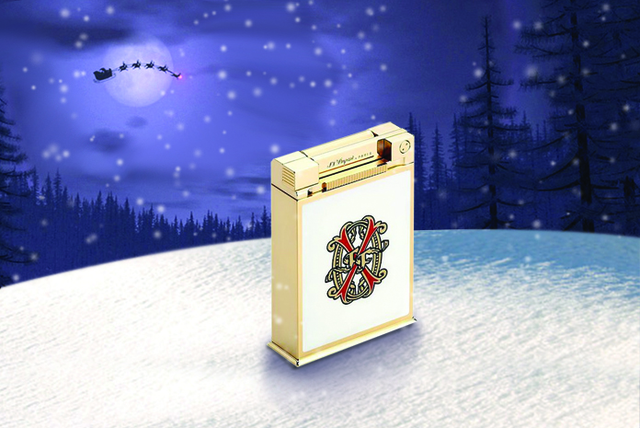 The LIMITED EDITION Opus X Jeroboam Table Lighter by ST Dupont has a long history of creating lighters and accessories for major tobacco and cigars manufacturer. The S.T. Dupont Opus X Jeroboam Table Lighter features white Chinese lacquer with 18k gold highlights, which add an elegant finish to the remarkable beginning of your enjoyment!
Still looking for more options? We have plenty of holiday cigar lovers gift ideas for you! Please visit our  Mike's Cigars Gifts Page for more Gifts, Cigar Samplers, and Specials Collections