As we enter the most wonderful time of the year, we all can't help but dread one thing. Gift shopping. We know how stressful it can be to find the right gift for each and every loved one. That's why we went all out this year to make your holiday one to remember! All our gifts have been specially selected to make sure whoever receives it will cherish it for years to come!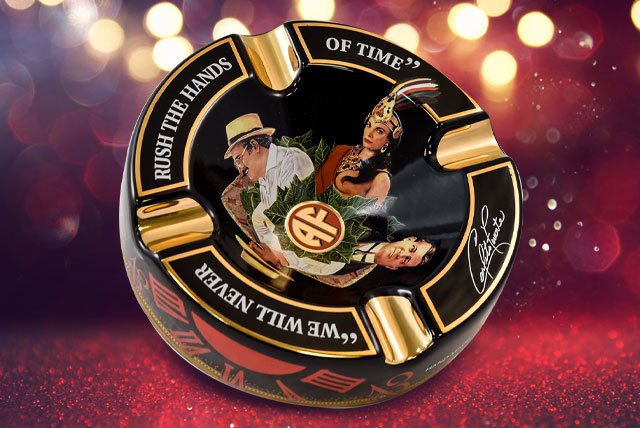 No gift of cigars is complete without an ashtray. But it takes something special to truly make it a gift. With four slots, the Arturo Fuente ashtray lets you smoke with ones you love and celebrate the holiday season together.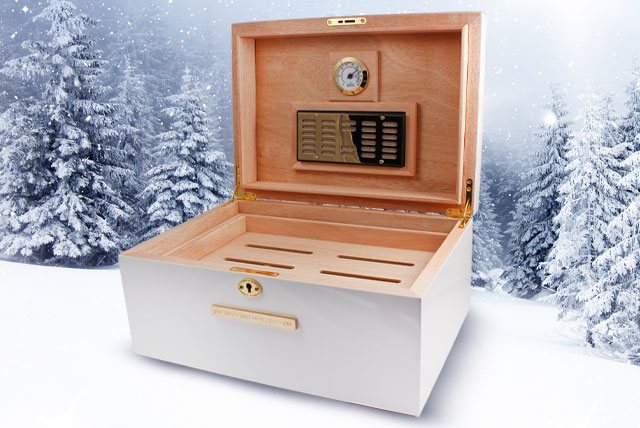 A must have for anyone in your life who wants to get serious about cigars. More than just a humidor, the My Father Le Bijou is a genuine work of art in form and function. It's sleek white finish is embolden with the stunning My Father logo, and speaks to craftsmanship that goes into every My Father cigar.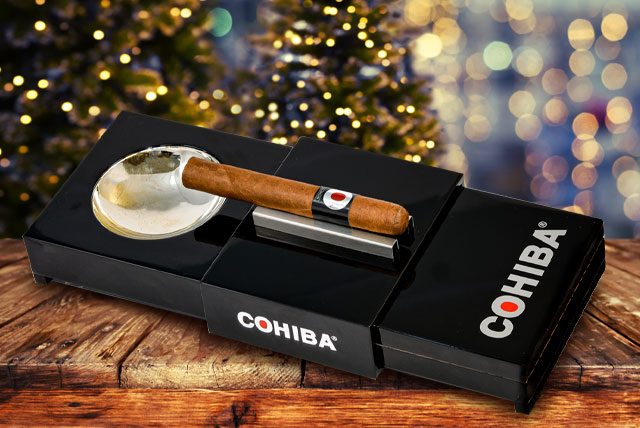 Take no chances and give the gift that has everything they could ever want. In addition to a polished, modern designed humidor and a pristine built-in ashtray, they'll get four Cohiba Silencio cigars. The Silencio was made for exclusive events, so you now have the chance to give that special someone a rare beauty of the cigar world.

Gift set includes:
Combination humidor and ashtray
5 Cohiba Silencios 6 x 50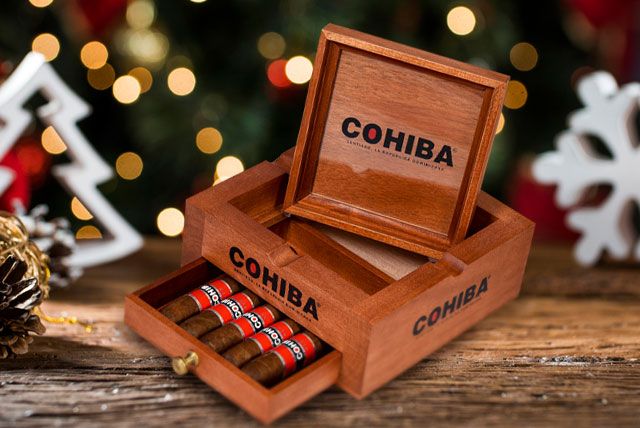 The best way to get that authentic Cohiba experience, this combination ashtray feels like the old world come to life. Coming with an impressive five Cohiba robustos, this gift compliments any aficionado's collection.
Gift set includes:
Cohiba wooden ashtray
5 Cohiba Robusto Naturals 5 x 49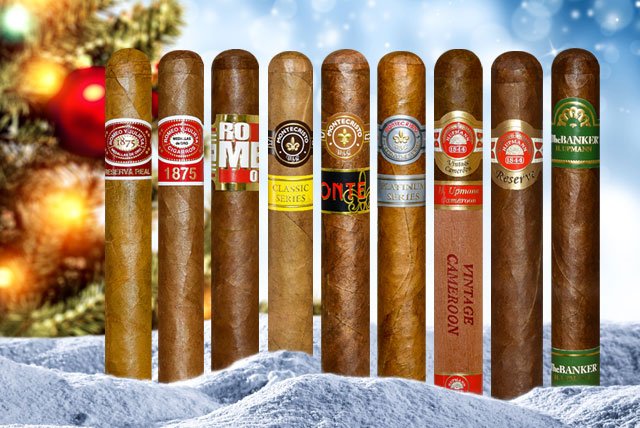 When nothing but the best will do, give a gift of the cigars that have stood the test of time. The iconic brand sampler will be familiar to anyone who knows their tobacco, and bring a nostalgic smile to the seasoned smoker. Each cigar is a wonder of complex flavors, giving an experience that isn't soon forgotten.
Gift set includes:
Romeo Y Julieta Reserva Real Toro Natural 6 x 54
Romeo Y Julieta 1875 Exhibition No. 3 Natural 6 x 50
Romeo By Romeo Y Julieta Toro Natural 6 x 54
Montecristo Classic Toro Natural 6 x 52
Monte By Montecristo Toro Natural 6 x 52
Montecristo Platinum Toro Natural 6 x 50
H Upmann Vintage Cameroon Toro Natural 6 x 54
H Upmann 1844 Reserve Toro Natural 6 x 54
H Upmann The Banker Annuity Toro Natural 6 x 52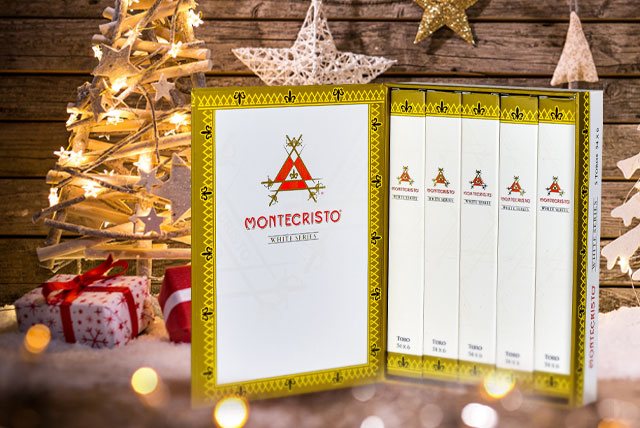 Regal and distinguished, the Montecristo White Toro Collection gives off an unmistakable aura of quality. An easy gift for anyone curious about cigars, this Domincan and Nicaraguan blend will introduce them to the Montecristo brand in style.
Gift set includes:
5 Montecristo White Toro 6 x 54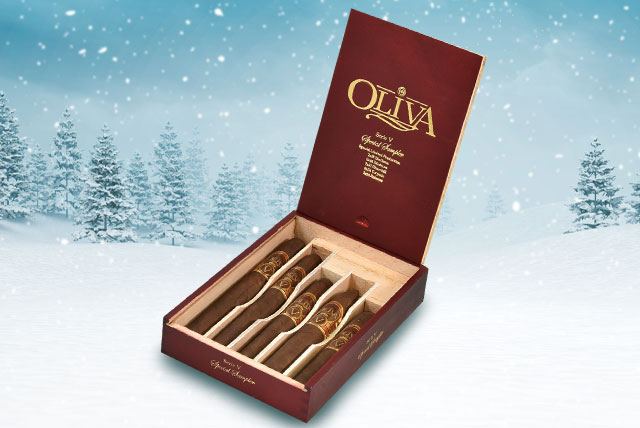 Have someone who's a bit picky on your gift list? The Oliva Serie V sampler lets them find the right cigar for them. Featuring some of the most balanced and smooth cigars on the market, in every size imaginable, this gift will please even the most choosy of friends.
Gift set includes:
Oliva Serie 'V' Double Robusto 5 x 54
Oliva Serie 'V' Diadema 6 x 46
Oliva Serie 'V' Torpedo 6 x 56
Oliva Serie 'V' Diadema 7 x 49
Oliva Serie 'V' Churchill Extra 7 x 52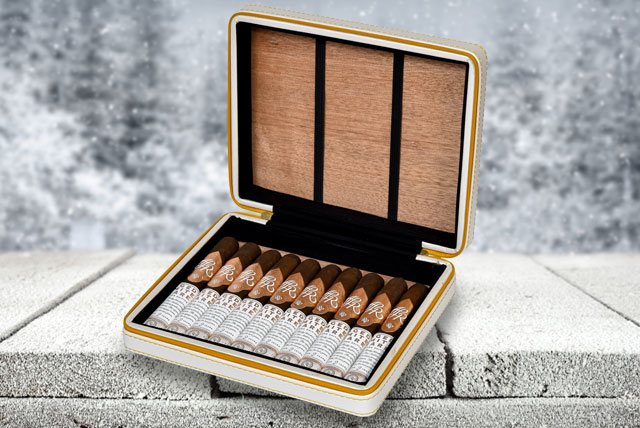 A gift for those who want to make a statement with their cigar choices. This sophisticated traveling case has room for up to twenty toro sized cigars. With a fine leather casing emblazoned with the Rocky Patel signature, this is a bold gift made for a bold breed.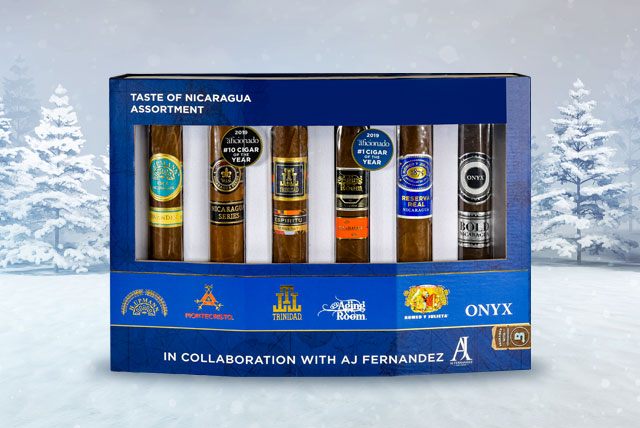 For the seasoned cigar smoker on your gift list, the Taste of Nicaragua Assortment by AJ Fernandez offers a selection of some of the finest tobacco the country has to offer. For anyone that believes variety is the spice of life, this sampler is perfect for those who want to experience the full spectrum of rich, flavorful Nicaraguan cigars.
Gift set includes:
H Upmann Nicaragua Toro 6 x 54
Cohiba Nicaragua Toro 5 1/2 x 54
Trinidad Espiritu Toro 6 x 54
Romeo Y Julieta Reserva Real Nicaragua Toro 6 x 54
Aging Room Quattro Nicaragua Torpedo 6 x 52
Onyx Bold Nicaragua Toro 6 x 54
Unsure what to get? Our samplers page has an abundance of deals on every cigar. These samplers can come with fifty cigars, and at two hundred dollars for the set, you're getting premium level cigars for only four dollars. It's a can't miss for anyone shopping on a budget, with enough cigars for family, friends, and even a little treat for yourself!
Looking where to buy cigars? Mike's delivers near and far!