It's been an ongoing debate for decades, who is the best Bond? There are good arguments for every single actor to don the tuxedo; even the one film-wonder George Lazenby. I personally think Timothy Dalton is supremely underrated, bringing a dangerous edge to the character long before Daniel Crag took up the mantle. But regardless of which Bond you prefer, there are certain things associated with every Bond's aesthetic. The charm, the wit, the cool demeanor under pressure. Of course, any version of Bond also has to include his trademark Walter PPK, a tuxedo, a shaken not stirred martini, and a Churchill cigar.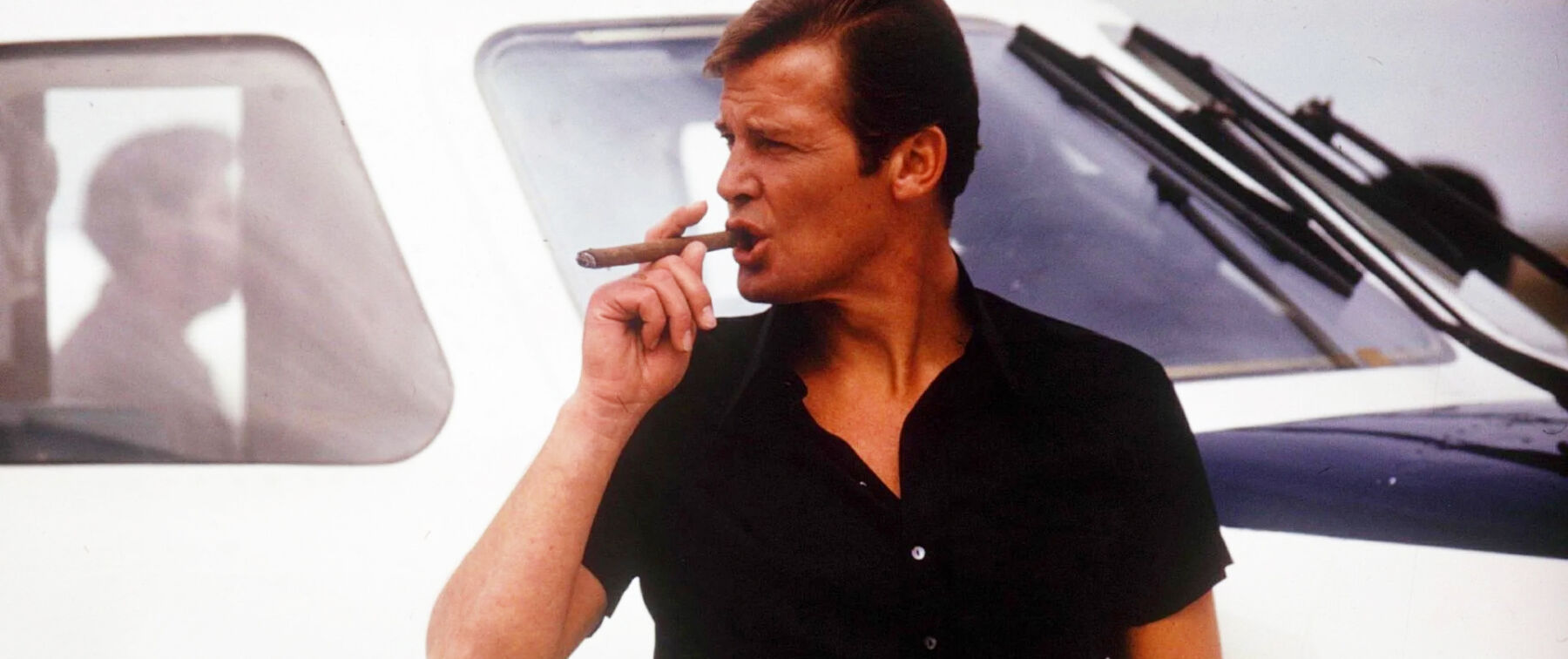 Moore, not Connery.
What's odd though is everything on that list has been a hallmark of the 007 films since the very first, except for cigars! As unbelievable as it seems, James Bond wasn't always a cigar smoker. This may confuse some of you, as it's entirely possible you have distinct memories of Sean Connery's Bond lighting up a fresh stogie on film. While that did happen, it happened in Never Say Never Again. Which perplexingly came out in 1983, after Roger Moore had starred in six Bond films. It was a bizarre situation, but the short answer is that Moore was still considered the "official bond", while Connery was doing an unofficial film that isn't technically part of the series. Either way, it's actually Roger Moore we have to thank for bringing Bond and Cigars together.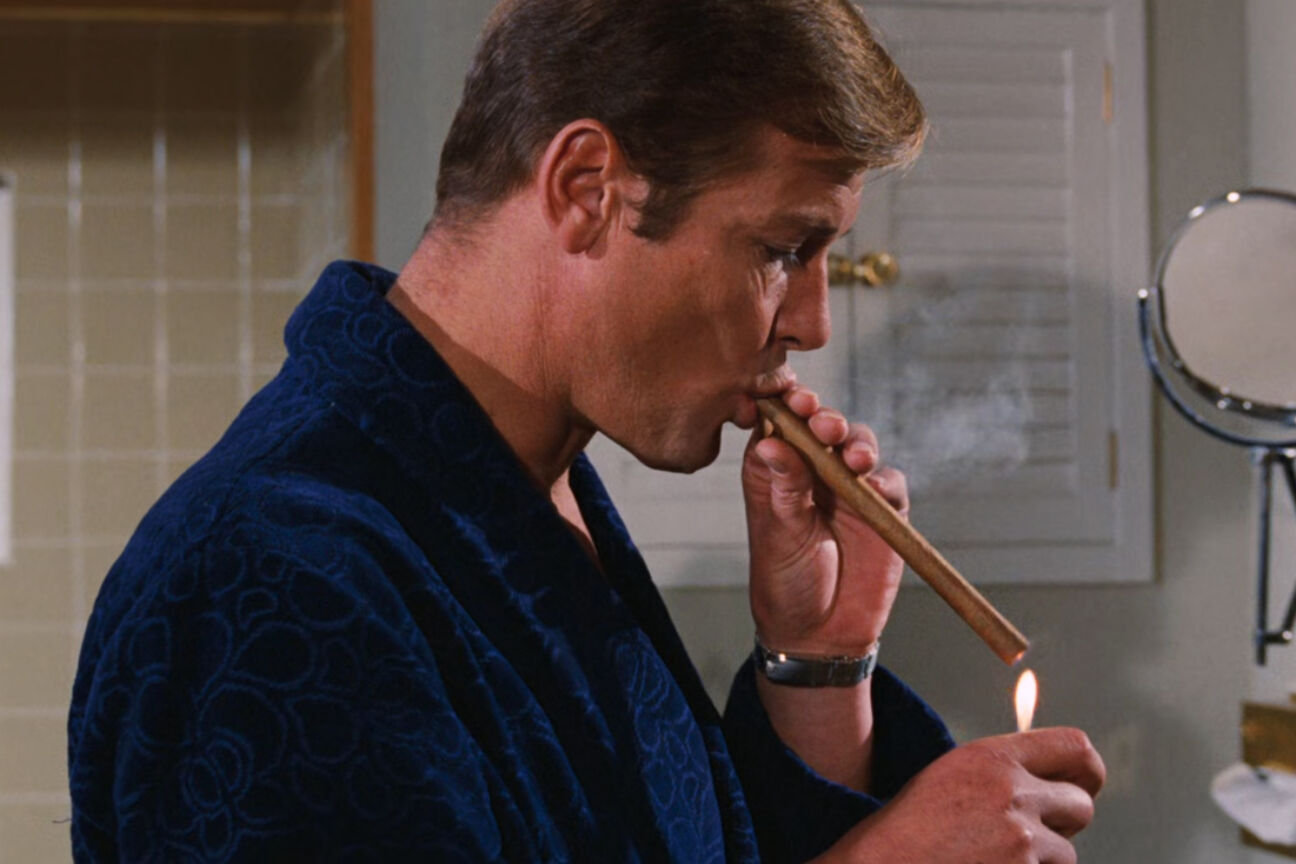 Moore himself was an avid smoker, and when he was cast, he had one of the most amazing demands an actor has ever made. Moore was adamant that his Bond smoke cigars, not cigarettes. A controversial choice, since smoking cigarettes (along with pretty much every single aspect of Connery's Bond), was considered sacrosanct for the character. In addition, Moore personally demanded he have unlimited fine cigars during filming. A man after our own heart. What seemed outrageous at the time turned out to be one of the wise decisions that made Moore's Bond iconic in his own right. Throughout his seven-film tenure, Moore's Bond always smoked a glorious Montecristo.
The scene that defined Brosnan
James Bond and cigars would come together once again when Pierce Brosnan took over the role. A cigar was actually vital to one of the most memorable moments of Pierce Brosnan's tenure as the character, in his final film, Die Another Die. In that quintessential scene, Bond sits in the sun-soaked beauty of Cuba, a mojito in one hand and a Romeo Y Julieta in another. As he looks out onto the horizon, his eyes catch the unforgettable sight of Halle Berry's character, Jinx Johnson, slowly rising out of the water. He takes a deep draw of his cigar, as she seductively walks over, and he calls out "Magnificent view". She turns, surprised, and smiles at him. In that moment, we all wished we were Bond.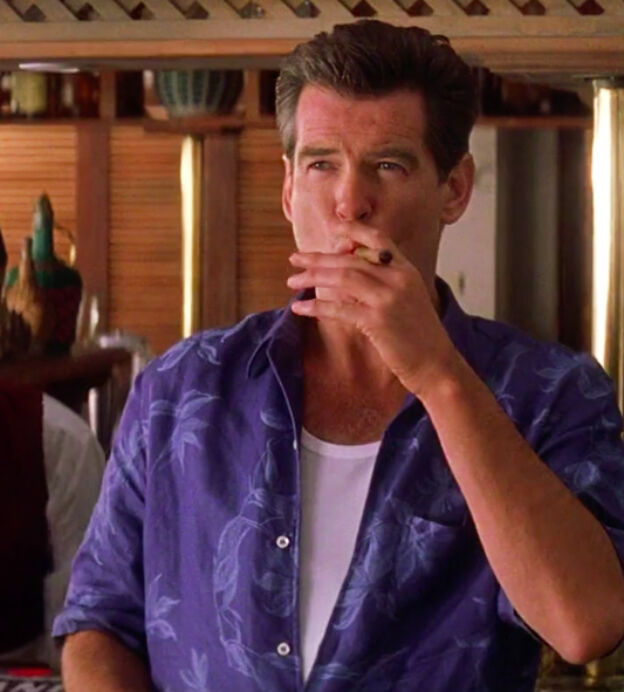 We may not all be spies saving the world from the surprising amount of rich madmen who somehow exist, but we can all enjoy the taste of a perfectly rolled cigar. Check out our selection that would make Bond himself burst into a smile.
What brands do you think Bond would smoke? Why? Let us know in the comments!
Looking where to buy cigars? Mike's delivers near and far!