Every aficionado enjoys a premium cigar in their own way. Some smoke based on preference, the craving for a chocolate-flavored cigar or a stogie with sharp, peppery notes. Some smoke based on brand, preferring to stick to the flavors they already know and love. Then there are those who smoke based on the occasion, ever searching for the right cigar to match the mood around them.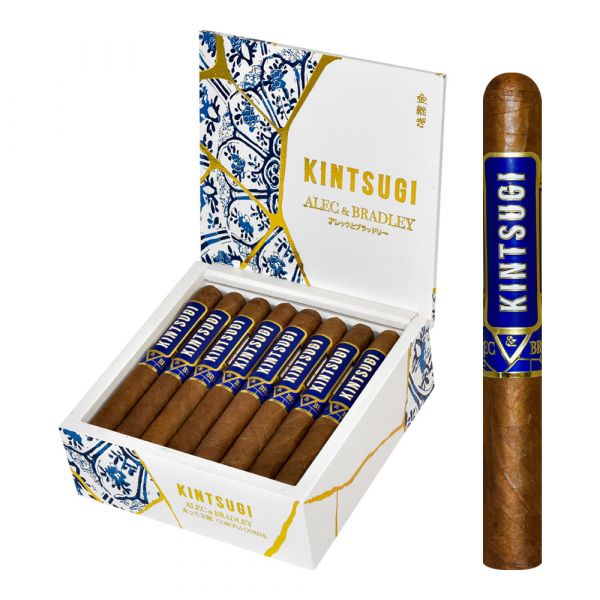 As one such smoker myself, finding the right cigar for the first day of spring was no small task. With the deadline fast approaching, I set to work. A Connecticut-shade cigar was the obvious choice, but it ended up feeling cliched. With the turbulent times that this past winter brought, the cigar needed to be more than just a relaxing and mild smoke. I had to pick something that felt hopeful, that brought a level of power to go hand in hand with its flavor.
The answer I arrived at was the Alec Bradley Kintsugi Corona Gorda. Anyone who took a gander at Cigar Aficionado's top twenty-five for the previous year no doubt saw that this particular stogie took the number 25 spot. The respected leader in tobacco wrote, "the clear rendition of flavor that's so artfully conveyed by the corona Gorda: dried fruit, cinnamon, espresso bean, and hazelnut come together for a complete picture."

The Kintsugi so epitomized spring for me because of the inspiration behind it. The art form for which the cigar takes its name is an ancient Japanese practice of mending objects, often with a vibrant golden hue, so that the flaws that have been repaired aren't hidden but become a part of the artwork itself. For a cigar to so boldly represent the hope that things can be mended, that the mere act of repair can create something wholly better, made it the n8umber one choice. That is what makes for an optimistic spring smoke.