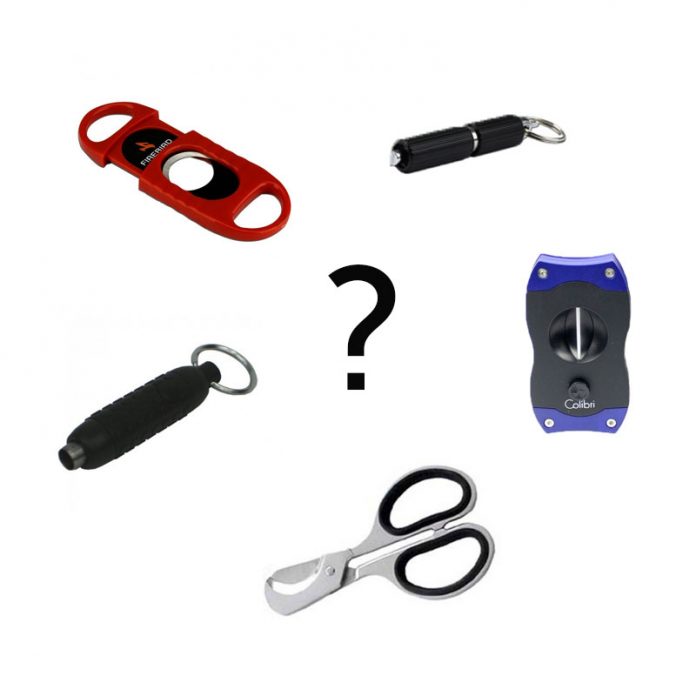 How about biting off the end of a cigar with your teeth? There are ways to go around this primitive method. Why ruin a beautiful cigar by chomping off the end, not to mention the leftover bits of cigar in your mouth, this is why it's important to choose a cigar cutter that is right for you and the cigars you smoke.
First off, you shouldn't be using a dull blade if you want to achieve a quality smoke. There are 4 types of cutters that are commonly sold: guillotine cutter, scissor, v-cutter, and cigar punch.
The most effective kind, based on feedback and experience, is the the guillotine cutter. These come in single blades and double blades, with double blades being more effective.  Two blades allow equal pressure to be applied on both sides and pass each other in the middle to create a smooth cut. Just make sure you buy a gauge opening larger than the size of cigars you like to smoke, or you'll be stuck biting off the end!
You can also use a cigar scissor, and a well-made one can produce a really nice, neat cut. The downfall to scissors is that even if they are a bit dull, they can still mangle your cigars. However, they will cut just about any ring gauge. Just make sure you are willing to spend a bit more money to buy a quality scissor that is durable and sharp or you risk fraying the caps.
V-cutters aren't that popular but I've noticed they can be effective for cutting tapered head cigars like Torpedos, but that's all I've been able to master. This style of cut exposes more filler and permits a good draw…resulting in a more concentrated smoke. Just don't expect to cut thick gauge cigars using v-cutters.
Lastly, there's the cigar punch. These are easy to carry on you, as a lot of them allow you to attach them to your keychain for that emergency smoke! Instead of cutting off the cigar's top, these will punch a hole through the center of the cap about 1/4 of an inch. Aficionados say the punch cut are preferred for cigars using mixed or short filler tobacco because it keeps bits of tobacco from getting into your mouth.