Altadis USA has been assertive lately on extending their brand portfolio of cigars. Collaborating with notable cigar blenders like Rafael Nodal of Aging Room, and in turn handling distribution for Aging Room, and they also work with Pete Johnson of Tatuaje to name a few. Now they have partnered with AJ Fernandez to create Gispert Intenso cigar. AJ Fernandez has already collaborated with Altadis USA with H. Upmann, Monte by Montecristo and with Altadis' sister company Santa Clara with Romeo Y Julieta and Montecristo crafted by AJ Fernandez. Let's take a closer look into the Gispert Intenso.
The word intenso means "intense" in Spanish. It's a profile update from Altadis' original Gispert line which is milder and uses a Connecticut wrapper. Altadis' Grupo de Maestros and AJ Fernandez chose a Connecticut broadleaf wrapper, Nicaraguan Criollo '98 binder and an assortment of fillers including Nicaragua Criollo '98 & Piloto Cubano from the Dominican Republic.
Specs:
Made By: Altadis USA
Country: Nicaragua
Wrapper: Connecticut Broadleaf
Binder: Nicaraguan Criollo 98
Filler: Dominican Republic & Nicaraguan
Factory: Altadis's Flor de Copan factory in Honduras
Strength: Medium to Full
Ring Gauge: 52
Length: 6 1/8
Time: 1 hour, 50min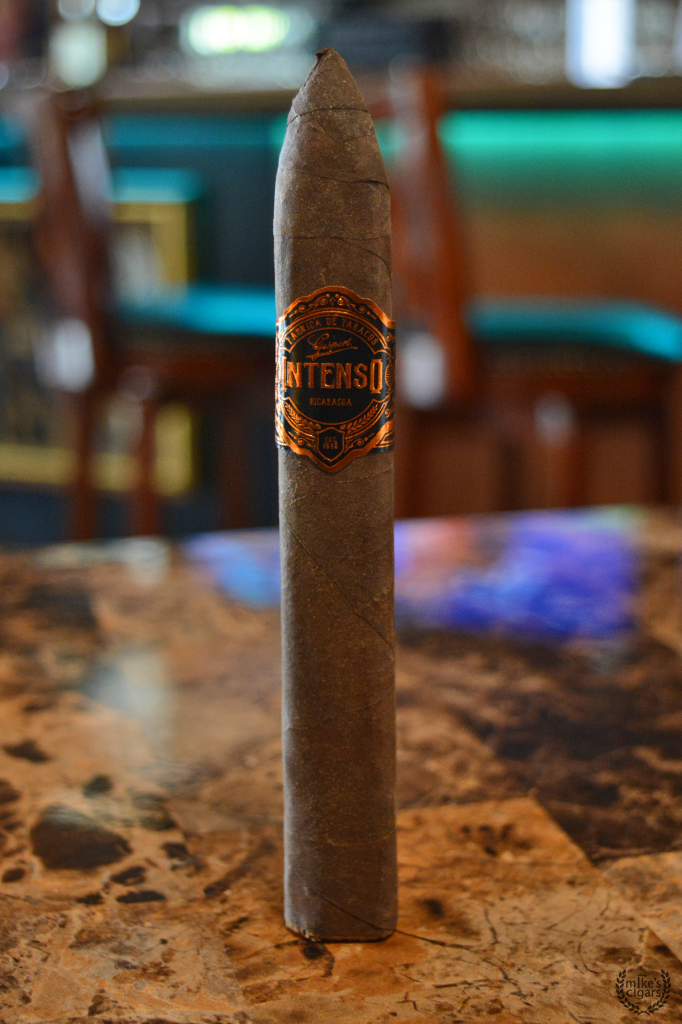 Pre-Light
First thing you'll notice about this box-pressed cigar is the dark, matte, toothy wrapper that is impressively constructed with minimal veins apparent. If you look closer at the wrapper, you'll notice tiny, sugar-life crystals on the leaf. Along with the color of the wrapper, you'll notice a beautiful copper & black Gispert band. It has intricate floral and lines around it while in the center, you see the words "Gispert Intenso Nicaragua Est. 1940." It's a firm cigar with an alluring espresso, leather, and oak scent.
First Third
As soon as you light this cigar up, I receive a wave of peppery, nutty notes on my palette with roasted espresso flavors. The cigar has an excellent construction and burns even. As I retrohale, I get notes of black pepper with an underline of cedar and white pepper. The Connecticut Broadleaf wrapper adds a nice balance of pepper with sweet notes. As I'm finishing the first third, the spicy notes tone down and notes of espresso and nutty begin to develop while still being a hearty smoke.
Second Third
The Intenso continues with it's full-bodied experience with pepper and espresso notes yet it's smooth on the palette. Addition note of dark cocoa, dry fruit, coffee beans, come into fruition. The burn is not the best but it's not a noticeable problem that effects the experience. The Intenso remains consistent with richness, espresso, and oak flavors continue to develop with hints of metallic notes.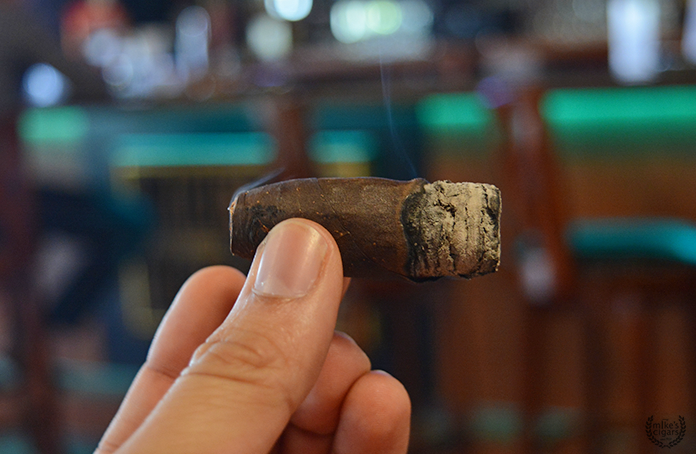 Last Third
The cigar is easily peaking on full-bodied smoke with a robust flavor of coffee, oak, earth, cinnamon, and leather taking the experience up a notch. The draw has been effortless even though I've had to do minor touch-up on the burn. Nonetheless, it still has a balance of nutmeg to provide a nice balance of spicy and sweet notes that were similar in the second-third. Although the nub doesn't heat up to make it uncomfortable to smoke, I take a few puffs as the richness fades away.
Final Result
As much hype was surrounded with the collaboration of AJ Fernandez and Grupo de Maestro on a fairly unknown brand, it lives up to the hype. The smoking experience was enjoyable with a variety of flavors that made itself noticeable but not intrusive. Although I had some issues with the burn mid-way, there is a lot more positive sides to this cigar. Since this cigar is a hearty smoke, you'll enjoy it most after a nice dinner with coffee. With a price of $6-7 a stick, the Gispert Intenso a solid smoke that won't break your bank.