Twenty-five years after releasing it's first line of highly-appreciated cigars, La Gloria Cubana is adding a new blend to its portfolio which is definitely set to entice aficionados across the globe.
This is the first La Gloria Cubana cigar Ernesto Perez-Carrillo has blended in a decade, all the while using proprietary tobaccos from his collection. A truly enticing medium-to-full bodied blend that utilizes top quality fillers from Nicaragua and an oily Ecuador
Sumatra wrapper.
La Gloria Cubana Colección Reserva debuted at IPCPR 2017. Ernesto said, "La Gloria Cubana Colección Reserva is based on a blend I created in the 1980s, after I took over our Little Havana factory from my father. I am very proud of this cigar because it complements the other blends in the line and has a taste profile that will appeal to people who have smoked La Gloria since the brand first hit it big in the 1990s."
Specs:
Made By: General Cigars Co.
Country: Dominican Republic
Wrapper: Ecuadorian Sumatra
Binder: Nicaraguan
Filler: Nicaraguan
Factory: Tabacalera La Alianza
Strength: Medium
Ring Gauge: 54
Size: Torpedo
Time: 2 hours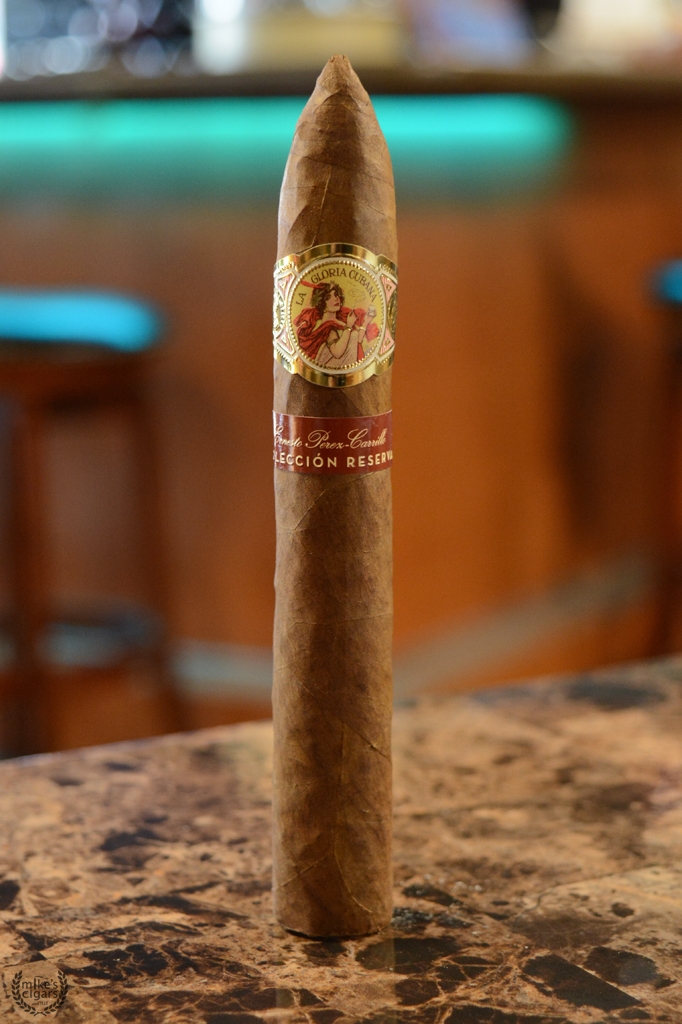 First Impression
As with anything, first impressions count and The La Gloria Cubana Colección Reserva did not fail to impress. Upon removing the La Gloria from the humidity-bag I had received it in, I knew it was special. The buttery soft milk chocolate wrapper, minimal veins and pungent honey and cedar aroma is definite sign that this will be a treat. This is a dense and heavy cigar with an impeccably triple cap. It's tightly packed to the brim with fresh pungent leaf which only emphasized the previous aroma.
The cigar is all pulled together and represented by two beautifully presented bands. The gold insignia of the "La Gloria Cubana" house and the bold burgundy personalized band of "Ernesto Perez Carrillo" simply beautiful, which gave a whiff of debonair about it.
Upon nosing the foot of the cigar, I noticed some dark cocoa nuances which were very pleasant indeed. I hadn't tried this brand before, so this was certainly a pleasant encounter so far. As I said above, the perfectly rolled triple pointed cap was perfect. With a swift and slightly angular clip of my Colibri Monza guillotine cutter, came away like a dream.
First Third
The first third couldn't have started any better. Dense rich white plumes of fragrant smoke and a razor sharp burn to compliment, which thrills me. Flavor wise, a very dominant and heavy cedar followed by a freshly baked dough which had a sweet aroma, imagine walking past a baker shop in the early morning.  These flavors developed into a rich leather with a significant pepper blow towards the end of the first third, however the cigar began to develop a very interesting buttery and creamy smoothness too it. All very enjoyable and not overwhelming for the palate.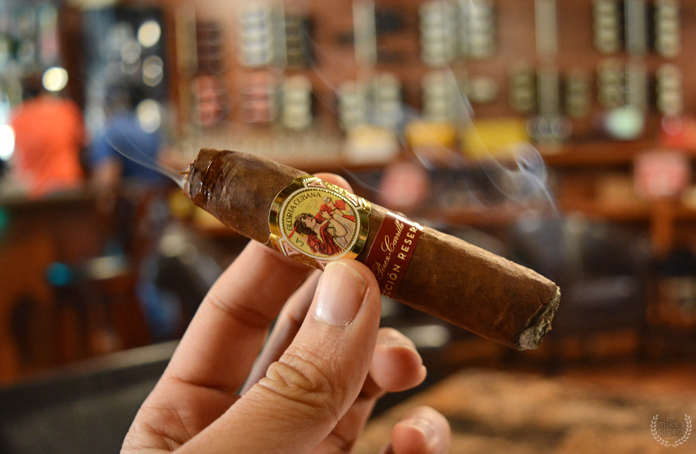 Second Third
The second third is where the La Gloria became very interesting. The leather I noticed in the previous third was still present, but now it was accompanied by a seriously rich dark cocoa with a cedar washing over the tongue to finish. I felt that as the Colección Reserva developed, it showed particular traits of a desert cigar. At least one enjoyed with a liquor coffee. Something bold and rich to accompany the complexity of this little gem. Towards the middle of the second-third the doughy texture I encountered in the first third came back but this time had a saltier nuance. More pretzel like and this developed into a really beautiful rich cream with a leathery profile and more of that deep rich cocoa flavor from earlier.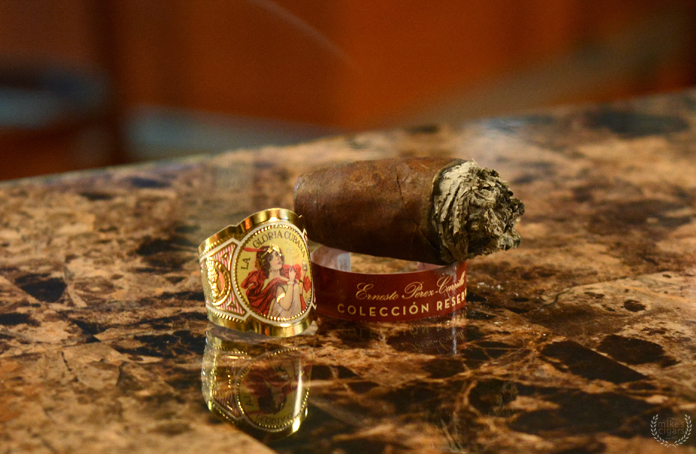 Last Third
The final third was bold to say the least, it was straight up cedar and a powerful pepper blast. It's incredibly long lasting and rounded off by more sweet bitter cocoa. The burn held up, razor sharp and not once did I have any issues. As for the smoke, still going dense and rich which left a beautiful fragrant haze in the air. I ended the cigar with around an inch left as I had a meeting to head too. If not for that I would have gladly smoked it down until my fingertips burnt.
Final Result

The La Gloria Cubana Colección Reserva seriously impressed me, I am typically not accustomed to smoking anything other than Cuban brands, however this Dominican beauty has really opened up my eyes to the world of non-Cuban cigars and provided enough of an enjoyable experience as to why I should smoke more of them. The construction was flawless and the burn razor sharp (as I keep saying, it really did impress me). The smoke remained cool and consistent throughout the two hours, which can be difficult to find with some cigars.
I have had both burn and combustion issues with a number of Cuban cigars I've smoked, however for the Colección Reserva I placed down for a good 15 minutes overall whilst sending a couple of emails and making a phone call. After picking it back up to take another puff, it was as if I hadn't placed it down at all. Consistent is a perfect word I would use to describe this cigar.
Recommendation
Flavor wise, this cigar is something-of an after dinner treat. Smoke this cigar alongside either a liquor coffee as I mentioned before, or even a good malt. Those nuances of fresh dough, both sweet and salty along with the rich and deep creamy leather and cocoa flavors really did knock me for ten. It's a solid and slow burner at an impressive two hours. Now that may vary to other cigar smokers, but I typically take my time with most of my smokes. I did place it down once or twice so the smoke time may be have been a little less than the two hour mark. I'm happy to say that the La Gloria Cubana Colección Reserva, by Ernesto Perez Carrillo will definitely be having a place in my humidor and has been nothing short of a blissful and stress free smoking experience.
Happy Herfing
The Cigar Library.