Our team of cigar connoisseurs is reviewing La Opulencia Cigar by My Father Cigars
My Father La Opulencia features a Mexican Rosado Oscuro wrapper over Nicaraguan binder and fillers. It is the first My Father branded cigar to use a Mexican wrapper that is in regular production. The cigar is available in six sizes, each is packaged in 20-count boxes.
Blend Profile
Wrapper: Mexican Rosado Oscuro
Binder: Nicaraguan
Filler: Nicaraguan
Country of Origin: Nicaragua (My Father Cigars SA)
Vitolas Available
Petite: 4 1/2 x 48
Corona: 5 x 46
Robusto: 5 1/2 x 52
Toro: 6 x 54
Super Toro: 6 x 60
Toro Gordo : 7 x 56
This cigar is an extension to the company's core My Father line, sharing the same primary band but adding a new secondary band. The cigar uses a Mexican rosado oscuro wrapper with a dual Nicaraguan binder featuring criollo and corojo leaves, while the filler comes from the García's farms in Nicaragua.
The line is named for an old Cuban brand that translates as "the opulent."
Appearance
I hate the term candy bar when used in reference to cigars as much as any term, but in the case of the My Father La Opulencia, it does seem a bit appropriate. The box press and rounded head give it a distinctive shape, while this particular shade of wrapper isn't the color of a judge's black robe, but rather lighter than most chocolate bars you'd find on shelves, but works in conveying the comparison.
The ribbon foot band has become a more regular sighting on a number of cigars, and My Father has used it a number of times as well.
While a good bit of it is covered up by two paper bands and the fabric foot band, the wrapper offers a fantastically smooth feel to the fingers aided by a light sheen of oil. The foot offers a peppery lead aroma that is rounded out by damp wood barrels, a bit of earth, chocolate and a sharp note of cold coffee that seems to be on the acidic side.
The cold draw is much more subdued and almost sweet in the sense of toffee and a bit of blueberry, though pepper does come through on the lips after a few tugs, backed by a bit of espresso.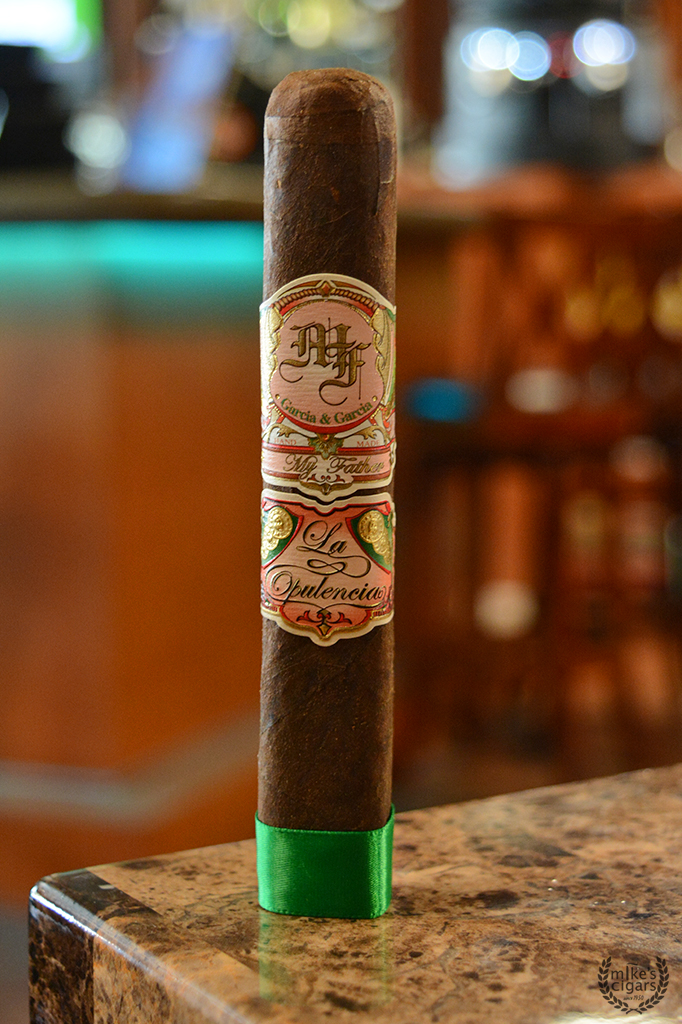 The wrapper has a fantastic dark brown color with just a bit of sheen that reminds me of coffee beans and leather, and while the veins are noticeable they're not distracting, save for the largest vein on the cigar which was found on the backside of both sticks near the head, perfectly averted from view if you were to look at these in a box.
As you can imagine with a double banded cigar, a good portion of the wrapper is covered up, but not so much that you can't get a good look at it.
The pre-light aromas are light and sweet, with a note of banana as the one that stood out most, while the cold draw is just the slightest bit firm, which is fine with me, and offers an interesting note of smoky molasses and just a touch of pepper.
It shouldn't be a surprise that La Opulencia puts out a good amount of smoke shortly after being lit, though the burn line seems to be in no rush to make its way up the cigar. While I wouldn't call it a creamy start, there is certainly some creamy undertones to the subtly sweet earth and just a touch of smoky darkness, with a pork note coming along after that.
First Third
It's by no means an explosion of pepper, but the complexities are impressive and make it known fairly quickly that it will be worth paying attention to the cigar's intricacies. The burn line continues to crawl as with 45 minutes elapsed I'm still in the first third—including samples that need a touch up or relight—and now it has gotten a bit uneven.
In the third sample, which got a bit of dryboxing, the flavor is a bit lighter and shows creamy peanut butter at the end of the first inch, something that makes me like the cigar even more. Ash flakes off a bit and is more distraction than anything, though the core clump of ash holds on quite well before the flaking leads to a crack and subsequent departure.
Pepper becomes a bit more noticeable, increasing its tingle on the senses as the flavor lightens up a bit as sweet cream grows in intensity as the burn line creeps into the second third and towards the secondary band.
There is a good amount of pepper in the first few puffs, though the signature Pepín blast isn't quite as overwhelming as might be expected, at least until you get a few puffs in and the smoke has had a chance to work over your senses for a few minutes.
It's about half an inch in that the My Father La Opulencia hits its first winning combination, as the pepper, earth, and just a touch of grilled meats come together to create an attention grabbing aroma.
As expected, the burn line is sharp and even, smoke production is sufficient and air moves through the cigar with no issues whatsoever. When the first chunk of ash breaks off, an astonishing amount of pepper joins the smoke, filling the nose with a nostril-tingling sensation that reawakens the senses in preparation for the next section.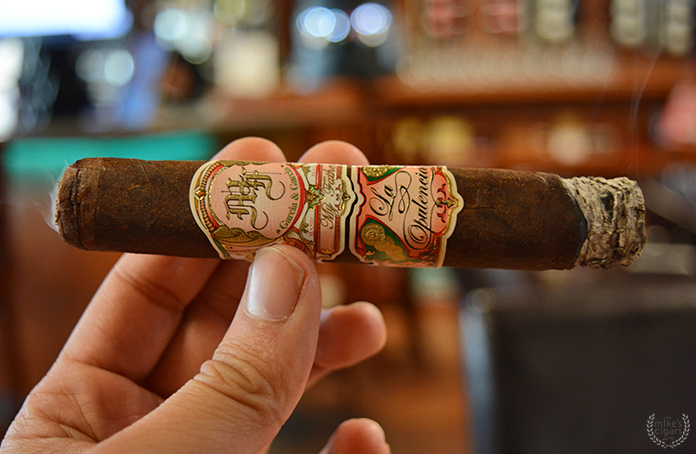 Out of the creaminess and what seems like a touch of oiliness associated with the peanut butter flavor comes a different spin on the earthiness, as La Opulencia now tastes much more of clay and soil, lighter and more distinct but also a bit sharper and more defined on the palate.
A huge hit of pepper gets introduced at the midpoint, the first real appearance it has made and gets right to work on unsuspecting nostrils via a retrohale and then via the ambient air, while also giving the palate a hearty dose to boot.
Second Third
The middle third has been shown an interesting back-and-forth in terms of strength, something that intrigues me given La Opulencia's billing as being a fuller cigar than the My Father core line, which I find to be already fairly full.
La Opulencia begins a slight pivot towards a more robust profile, as the pepper gets a bit scratchier on the tongue and throat, and the nicotine level nudges up a notch or two. There have been some combustion issues in this section as well that have hampered its progress.
While pepper is the lead note carrying the My Father La Opulencia Robusto into the second third, the supporting and distinct notes of soil and its nutrients are readily apparent heading into the second half, and the bright white ash only reinforces that these leaves came from some well-cared for land.
Notes of white pepper and chalk carry the cigar across its halfway point and prevent any halftime lull from occurring. An intense but fleeting note of sweetness starts to develop past the midpoint and is present on almost every puff after, delivering a syrupy, buttery note that is delicious though all too brief.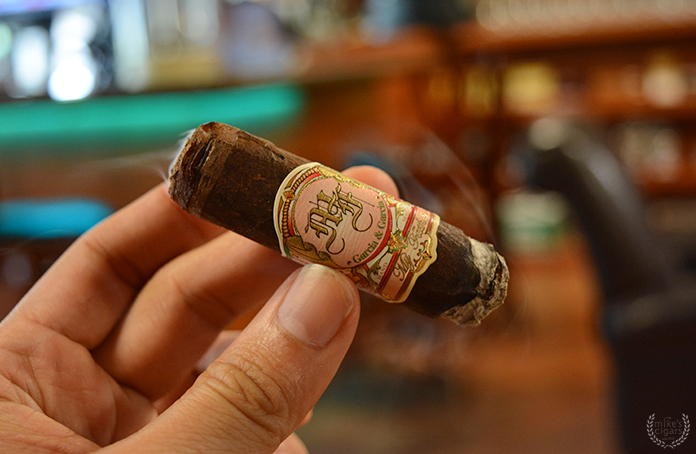 Last Third
The creaminess is long gone by the start of the final third, as La Opulencia seems the heartier Nicaraguan tobacco has taken the driver's seat of the profile, and put it on par with the My Father core line in terms of strength, if not nudging it slightly past it on certain puffs to live up to its billing.
It's also begun to get a good bit stronger in terms of nicotine, a dual-pronged approach to kick itself fully into the full-bodied and full-strength realm. Retrohales are the more pepper-packed way to engage the cigar, while each puff seems to hit further and further back in the throat, almost reaching into the top of the chest at its most potent.
Sadly, burn issues continue into the final third, further slowing the smoking time and adding a bit of frustration, though the flavors survive each relight. The peanut butter flavor from earlier returns for some welcomed sweetness in the last two inches, manifesting along the lines of Nutter Butters with some vanilla cookie added on this encounter.
Some rough, rocky pepper closes out the cigar as the time nears the three-hour mark and the burn line tries to stay relatively even.
The sweetness found earlier has largely departed, though there are some remnants floating around in the background and providing a soft landing for the palate once the stronger notes of earth and pepper fade away.
The earth and black pepper notes have returned, and now that the My Father La Opulencia Robusto is entrenched in its final third, it seems destined to leave with almost as much of a bang as it started with. While the flavor is not as upfront as it was earlier, it remains medium-plus all the way to the end, and with the solid construction still performing flawlessly, allows the cigar to be smoked as far down as time or your fingertips will allow.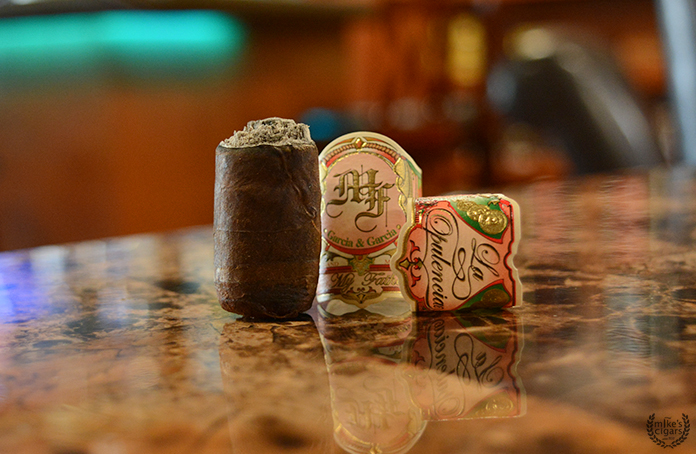 Conclusion
Much like judges get reputations, La Opulencia came with a bit of a reputation of being a full-bodied big vitola of a cigar. There are certainly plenty of points where it lives up to that billing, but there are a number of other spots where the cigar is pleasingly medium-bodied, creamy and even sweet in a subtle and tempered way.
La Opulencia offers more complexity than I would have given it prior to smoking several samples, while the transitions are smooth and logical without being boring. Burn issues hampered this cigar a bit, something that has been written about too many cigars coming out as of late, and something that will hopefully get resolved with future batches.
While I'm not crazy about the size and would welcome seeing this blend in something slimmer, the box-press and flavor profile more than made up for my objection to it.
As one of its staple core lines, My Father Cigars clearly believes in the La Opulencia line and for good reason: it offers a sensory-engaging blend of pepper and earth with occasional notes of grilled meat and sweetness to soften it at just the right times.
The question on this particular cigar is whether or not the Robusto vitola makes the blend sing as opposed to the rest of the sizes, and in particular, in comparison to the very similar Petit Robusto, which is just half an inch shorter.
I don't think that's the case, but that's by no means a knock on the cigar. If anything, this limited production Robusto is a great reminder about how solid the My Father La Opulencia line is in whatever vitola you happen to find or prefer.
Get your My Father La Opulencia Cigars here!
Looking where to buy cigars? Mike's delivers near and far!