The holiday season is here and that means the time is ticking to get that special someone an unbelievable gift. If that great person in your life happens to be a cigar connoisseur then your in luck! Mike's Cigars has 20 holiday gift ideas for cigar lovers that they will greatly appreciate.

1.

Gurkha Knife Pack Cigar Sampler Pack of 5
The Gurkha Knife Pack Sampler is one of the best samplers on the market right now and for good reason. This limited edition pack comes with 5 superb cigars and a sleek Gurkha fixed blade knife plus a coin key chain.
Gurkha Knife Pack Sampler Includes:
1 Gurkha Beauty Toro (5.0"x52)
1 Gurkha Beast Toro (5.0"x52)
1 Gurkha Crest Toro (5.0"x52)
1 Gurkha Grand Reserve Toro (5.0"x52)
1 Gurkha 1887 Red Rothchild (5.0"x52)
1 Gurkha Challenge coin keychain (5.0"x52)
1 Gurkha Fixed Blade Knife With Sheath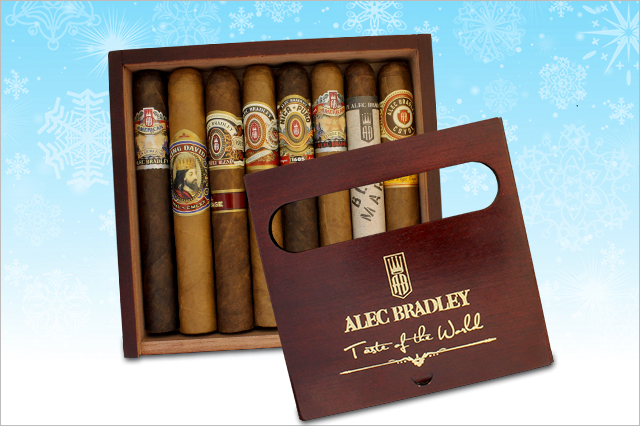 2.

Alec Bradley Taste of the World Sampler
This sampler is a cigar connoisseur's dream. It consists of  excellent Alec Bradley cigars in a beautiful mahogany box. Included with the World Sampler is a Super Blaster triple torch lighter. This is a fantastic gift item for any cigar smoker.
Sampler includes a Triple torch lighter and one of:
Alec Bradley Prensado Gran Toro Natural (6 x 54)
Alec Bradley Tempus Medius 6 Natural (6 x 52)
Alec Bradley American Classic Toro Natural (6 x 50)
Alec Bradley Black Market Toro Dark Natural (6 x 50)
Alec Bradley Family Blend BX2 Natural (6 x 54)
Alec Bradley MAXX The Fix Natural (5 x 58)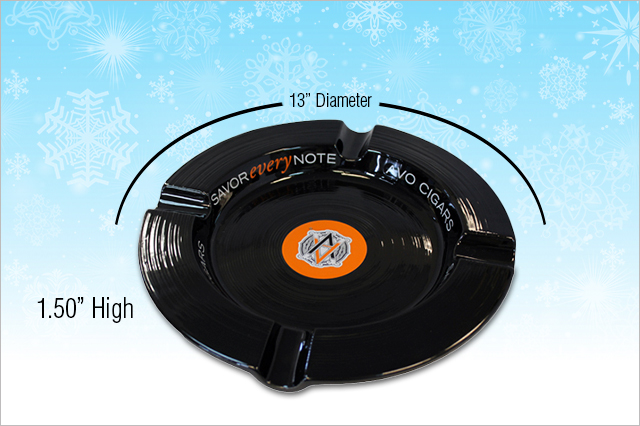 3. 

AVO Long Play Ashtray
A perfect ashtray for any cigar aficionado. Designed in the large shape of the old style vinyl LP, this huge cigar ashtray will make an excellent addition to your smoking den. Four huge cigar slots and plenty of room for ashes. Size: 13″ diameter and 1.5″ high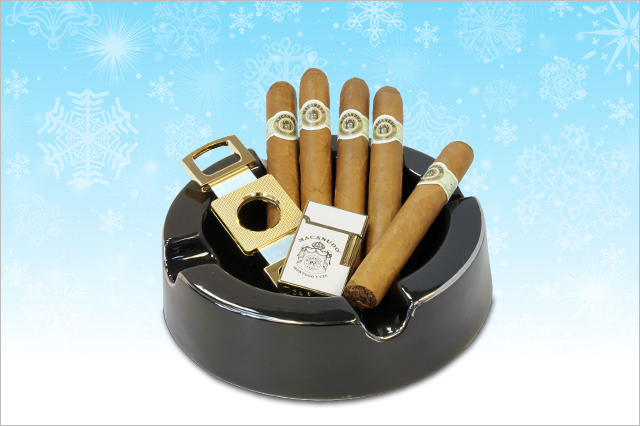 4.

Macanudo Ashtray Cutter & Cigar Gift Set
This is a superb gift set for Macanudo fanatics or even for a beginner! It makes for a great starter kit and features 5 Macanudo Hyde Parks: an amazing Mild to Medium bodied smoke. Also included is a Macanudo lighter, plus an ashtray and cutter.

Gift Set Includes:
5 Macanudo Hyde Park cigars
Torch Lighter
Heavy Duty Cutter
Black Ashtray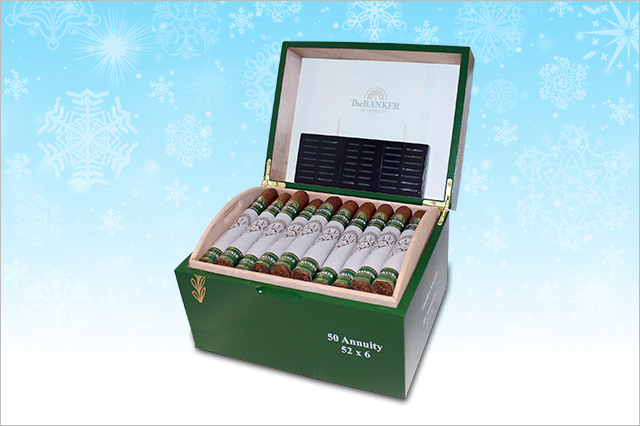 5.

H. Upmann The Banker Annuity Humidor Gift Set 
– Box of 50
The H. Upmann Annuity Humidor is an attractive and sleek humidor. It keeps your cigars in mint smoking condition. This cigar line dates back to year 1844, when German bankers Carl and Henry Upmann took a trip to Cuba. They created a unique cigar called The Banker. It was only served to their most special clients.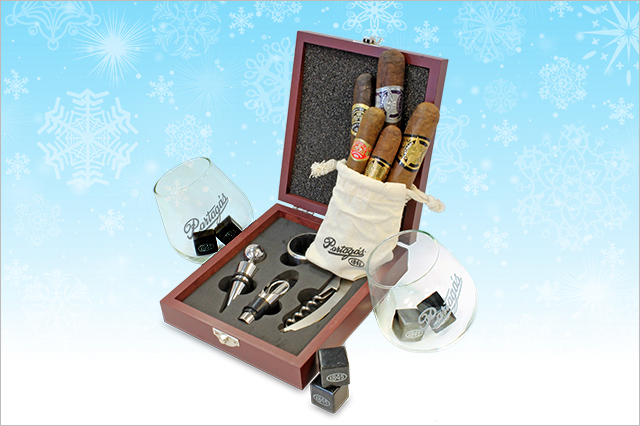 6.

Partagas Cigars & Bar Accessories Gift Set
This gift set is full of treats and goodies for someone special who enjoys spirits with their cigars! It includes: a wine set, whiskey glass, whiskey stones, plus Partagas cigars that range from medium to full-bodied.  Somebody is going to be happy with this gift this holiday season.
Gift Set Includes:
1 Partagas 1845 Robusto
1 Partagas 1845 Gigante
1 Partagas Naturale
1 Partagas Black Magnifico
1 Partagas 1845 Extra Oscurio Gigante
1 Partagas Wine Set
6 Partagas Whiskey Stones
2 Partagas Whiskey Glasses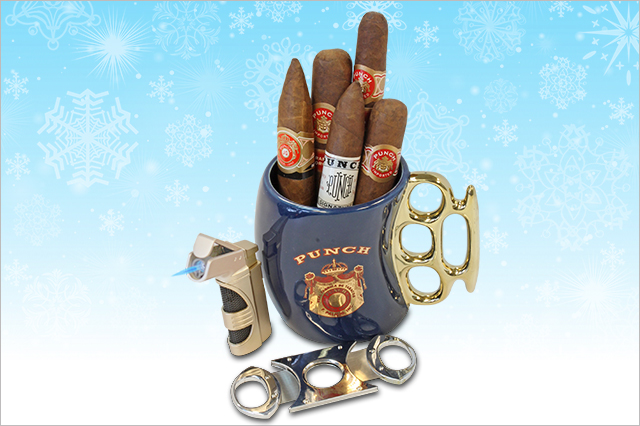 7.

Punch Mug Cutter Lighter & Cigars Gift Set
This gift set is a unique package featuring some of the best punch cigars around! This cool set is great for a Punch cigar fan, an cigar aficionado, or new cigar smoker! 5 cigars with a cutter and lighter are included and will have you or your special one smoking once the package is opened.
Gift Set Includes:
1 Punch Signature Torpedo
1 Punch Rare Corojo Perfecto
1 Punch Gran Cru II
1 Punch Rare Corojo El Doble
1 Punch Rothschild
1 Punch Mug
1 Torch Lighter (color may vary)
1 64 ring cutter

8. 

Xikar Open Season Gift Set
Xikar Open Season Gift Set is the perfect gift for those cigar lovers who are adventurous. It includes a hard case travel humidor that fits 5 cigars. Also, a quad flame torch lighter and a super large 75 ring gauge cutter! Perfect for Dad to pack-up, go hunting and enjoy some relaxing time.

Gift Set Includes:
1 Hard Case Travel Humidor (Holds 5 Cigars)
1 Quad Flame Torch Lighter
1 Cutter (Cuts Up to 75 Ring Gauge)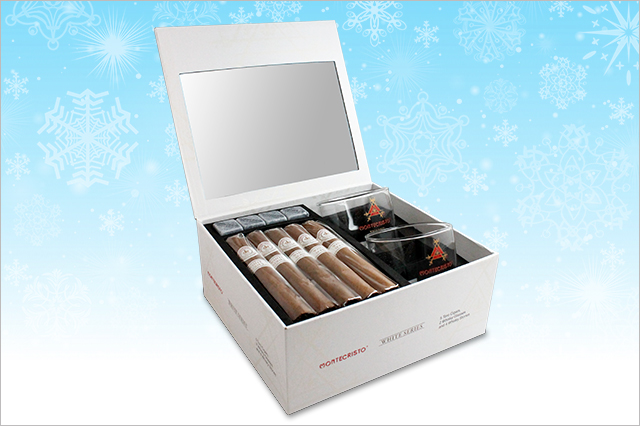 9.

Montecristo White Toro Whisky Gift Set
This is one of the world's most sought after cigars by cigar enthusiasts. The Montecristo White Toro has soothing flavors of creamy, rich and earthy aromas. It includes two whisky glasses with Montecristo logo on it.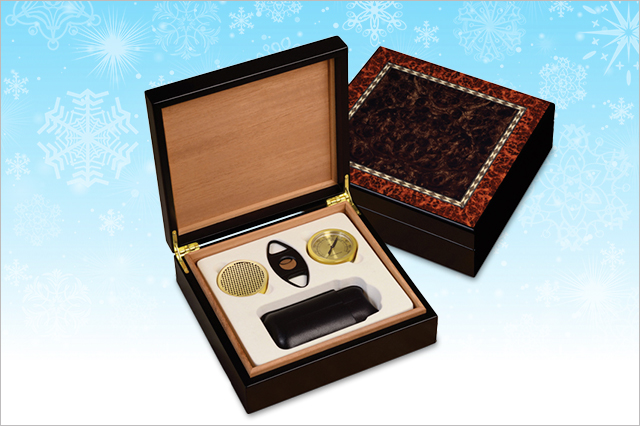 10.

Manhattan Gift Set
This attractive gift set provides the cigar enthusiast with the essentials. This beautiful gift set includes: a humidor with a dark walnut design, cutter, humidifier, and a leather cigar case. It includes a Spanish cedar divider and holds up to 25 cigars.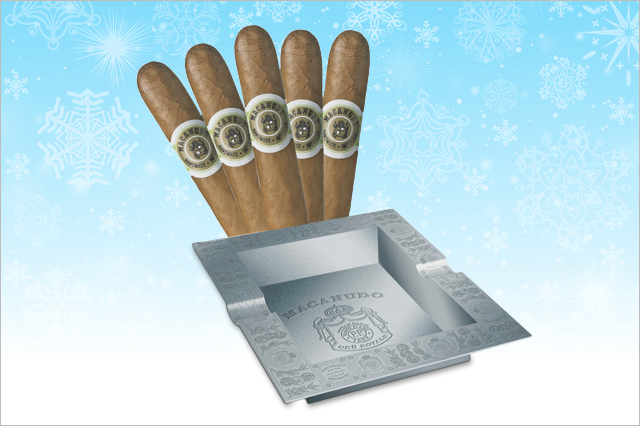 11.

Macanudo Cru Royale Ashtray with 5 cigars
Brilliantly handcrafted by legendary cigar master blender: Benji Menendez. Macanudo cigars are one of the most adored smokes in the world. Now, in celebration of the cigar's continued success, Macanudo is offering a limited edition custom made aluminum ashtray just in time for the holidays. Dimensions: 8″ length x 6.75″ width x 1.25″ height.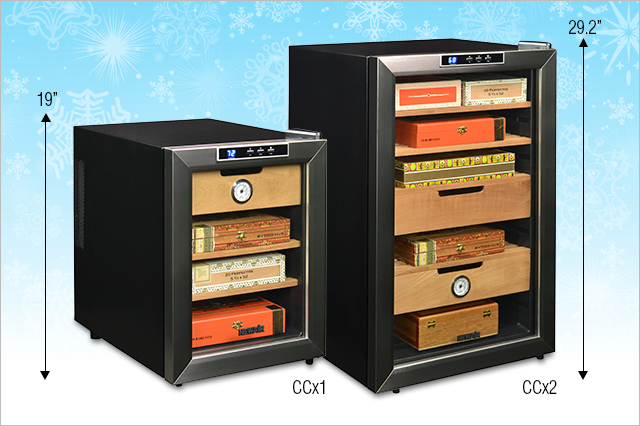 12.

Cigar Cooler X1
Does your husband have an out-dated humidor ? The X1 Cigar Cooler has the capability of storing up to 250 cigars. It is temperature controlled and furnished with a Spanish Cedar Drawer, a hygrometer, and two Spanish Cedar Shelves. This humidor has a sleek design that will compliment any room in your home.
Cigar Cooler X2
Does your husband need more space to store his cigars? Thrn The X2 Cigar Cooler is what your looking for. It has the capability of storing up to 400 cigars.  It is temperature controlled and furnished with a Spanish Cedar Drawer, a hygrometer, and two Spanish Cedar Shelves. The Cigar Cooler X2 is an attractive accent to your home or office. It has blue LED lights that illuminates the interior.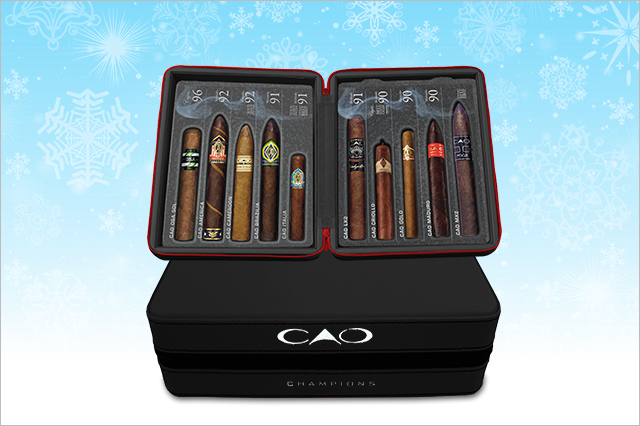 13.

CAO Champions Sampler II
Is your Dad the type that travels a lot? This Sampler is a Collection of 90 + rated cigars in a black travel case. Easy to transport and put in luggage's without harming the cigars.
Inside CAO Travel Case is:
1 CAO Lx2 Toro (6″ x 50)
1 CAO Criollo Pato (4.75″ x 50)
1 CAO Gold Corona (5.5″ x 42)
1 CAO L'Anniversaire Maduro Belicoso (6″ x 54)
1 CAO Mx2 Belicoso (7″ x 56)
1 CAO OSA Lot 54 (6″ x 54)
1 CAO America Monument (6.25″ x 54)
1 CAO L'Anniversaire Cameroon Belicoso (6″ x 54)
1 CAO Brazilia Samba (6.25″ x 54)
1 CAO Italia Novella (4.5″ x 46)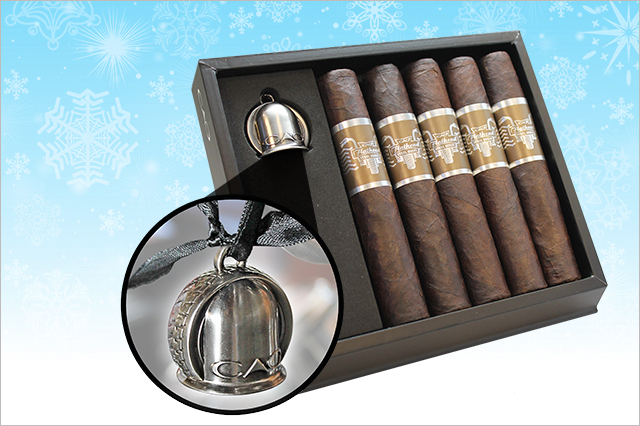 14.

CAO Flathead Steel Horse Collection Apehanger with Gremlin Bell
Is your Dad a bad-ass motorcyclist? Then he can use a Gremlin Bell whenever he hits the road. Gremlin bells are to help protect motorcycles from evil road spirits. CAO Flathead Steel Horse pays tribute to the bikers who enjoy the open road.
In The Box:
5 CAO Flathead Cigars
1 Gremlin Bell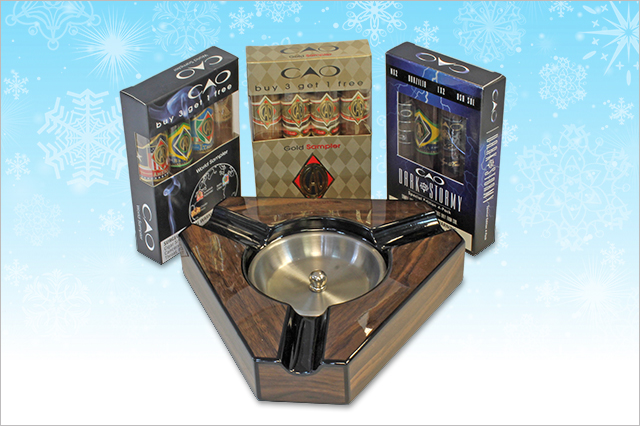 15.

12 CAO Cigars & Ashtray Gift Set
A Trifecta of CAO. This Holiday Season Mike's Cigars is offering an unbelievable deal on 3 CAO samplers. It includes a glossy triangular ashtray with a removable stainless steel ash tray in the center.
Gift Set Includes:
World Sampler Includes:
1 America Potomac (5 x 56)
1 Brazilia Gol! (5 x 56)
1 Italia Ciao (5 x 56)
1 Criollo Pato (5 x 56)
Dark and Stomry Sampler Includes:
1 CAO MX2 Robusto (5 x 52)
1 CAO Brazilia Gol (5 x 56)
1 CAO LX2 Robusto (5 x 52)
1 CAO OSA Sol Robusto (5 x 50)
Cao Gold Sampler Includes:
2 CAO Gold
2 CAO Gold Maduro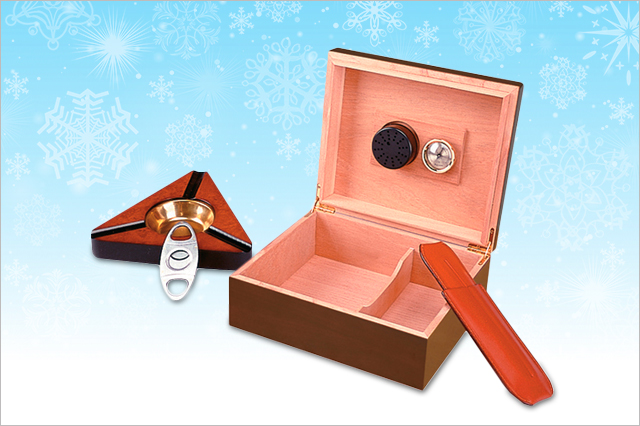 16. 

Cigar Lover's Starter Kit
Has that special someone been in the nice list all year and deserves a couple of nice gifts? Then surprise 'em with the cigar lover's starter kit. It includes a humidor with humidifier, cigar cutter, ashtray and cigar holder. It's at an affordable price that saves you money and you spoil that person with many treats.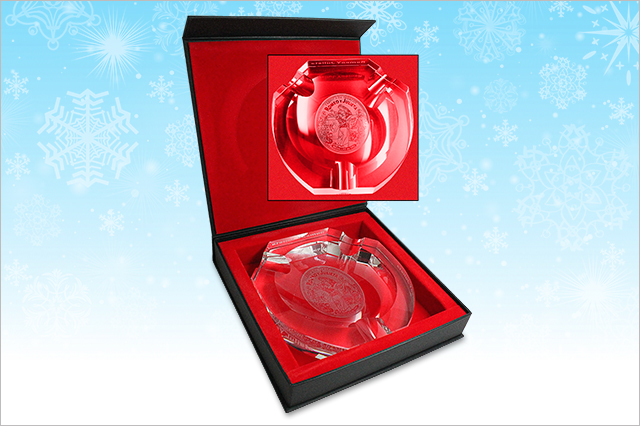 17.

Romeo y Julieta Shield Ashtray
Romeo y Julieta Shield Ashtray is a gorgeous crystal ashtray ideal for relaxing moments. A must-have for Romeo y Julieta cigar enthusiast. It showcases the elegant Fabrica de Tabacos logo etched in the center of the ashtray. Also, it's made of solid crystal and encased in a smooth red velvet line protective box.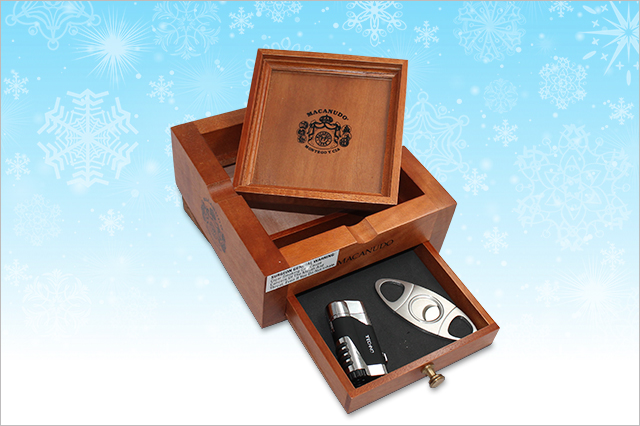 18.

Macanudo 3 in 1 Ashtray Gift Set
Do you tend to misplace your cigar essentials like lighter and cutter? Then you need the Macanudo 3 in 1 ashtray gift set. With this cool Macanudo Ashtray set you are able to keep the important things in one place. It features a branded Macanudo Base that includes a removable ashtray. Plus a draw at the bottom to keep your lighter and cutter. Dimensions: 7″ x 7″ x 3″.
This Macanudo Set Includes:
1 Macanudo Base with Draw
1 Macanudo Removable Ashtray
1 Stainless Steel Big Ring Cigar Cutter
1 Double Torch Lighter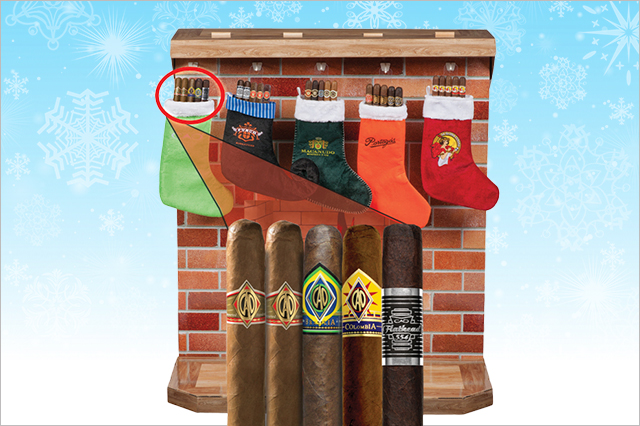 19.

CAO Collection Holiday Stocking Pack of 5
If your in a tight budget this holiday season then this is the cigar gift to get. The CAO Holiday Stocking Cigar Sampler brings the holiday season right into your home. This cigar stocking is green and white and has the CAO brand embroidered on the stocking. It's stuffed with 5 CAO cigars.
The CAO Holiday Stocking Cigar Sampler Includes:
1 CAO Holiday Stocking (Green/White)
2 CAO Gold Robusto (5 x 50)
1 CAO Colombia Tinto (5 x 50)
1 CAO Brazilia Gol (5 x 56)
1 CAO Flathead Camshaft (5 x 54)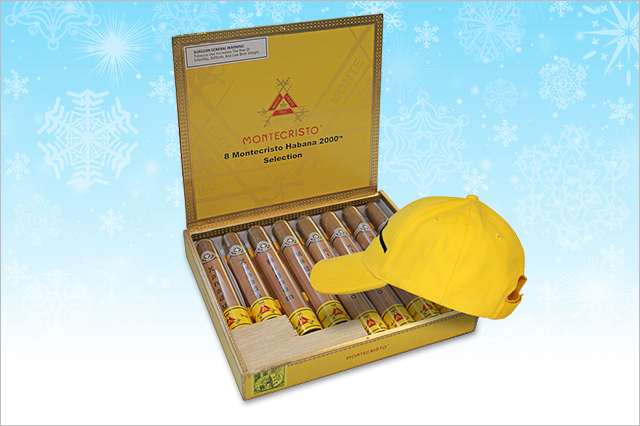 20.

Montecristo H2 Selection with Hat
Last but not least, The Montecristo Habana 2000 H2 Selection. These cigars are in a golden box and special glass tubes with cedar wrappers. It helps preserve freshness and enhance the cigars aromas. Inside you will find 2 Xanadu, 2 Magnum, 2 Kilimanjaro, and 2 Talisman plus a hat.
Still looking for more options? We have plenty of holiday cigar lovers gift ideas for you. Please visit Mike's Cigars for Gifts, Cigar Samplers, and Specials Collections.