The Gurkha Knife Keychain Sampler Pack is an impressive packaging design with some fabulous goodies. It includes a fixed blade knife with sheath, a gold Gurkha key chain, and 5 stogies from the world's finest cigars.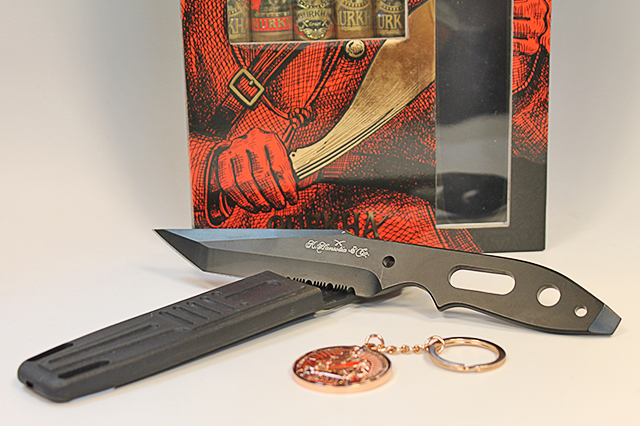 The fixed blade knife is 8 1/2″ long with a sheath that you can easily insert in your pocket. This knife is the perfect survival weapon to have with you while enjoying your outdoor activities like hunting, fishing, camping, and hiking.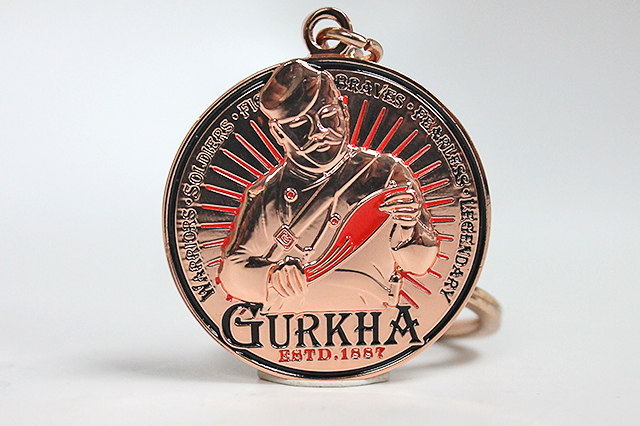 The Gurkha Bronze Keychain is a must-have for any Gurkha Nation affiliate or cigar enthusiast.  Around the coin, the message reads, "Warriors, Soldiers, Fighters, Braves, Fearless, Legendary" with the Gurkha logo embossed in the center.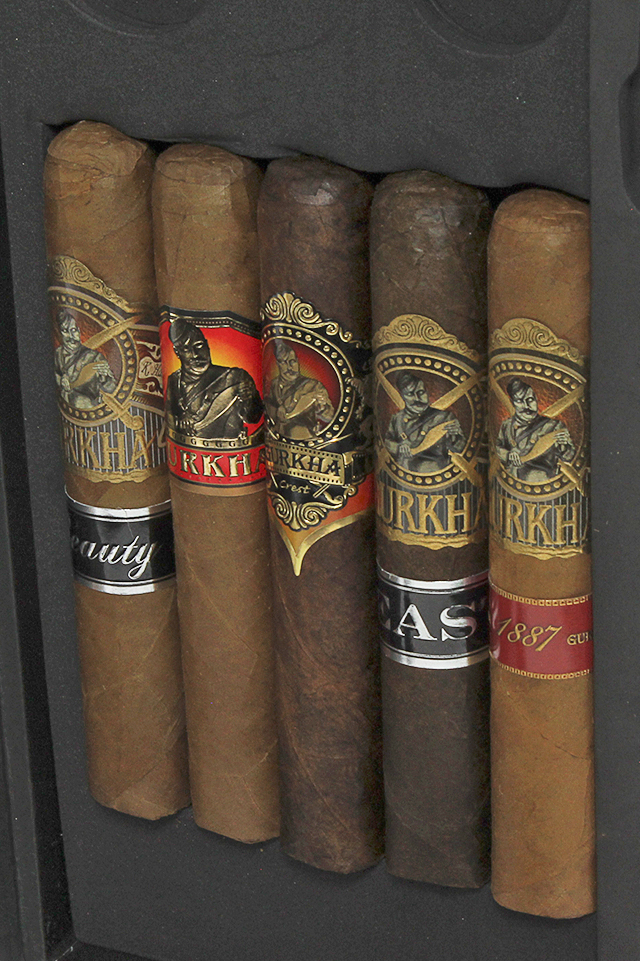 The Gurkha Knife Pack Sampler Includes:
Gurkha Beauty Toro (5.0"x52)  A fantastic cigar created for the true connoisseur. Enjoy this mild to medium, creamy cigar with an aroma of vanilla, nutty and caramel.
Gurkha Beast Toro (5.0"x52)  Only 1,000 boxes are produced annually due the combination of rare tobaccos. It includes Honduran, the Dominican Republic, and Colombian. The result is complex flavors including hints of chocolate, cocoa, cedar, and white pepper.
Gurkha Crest Toro (5.0"x52) This superb cigar is aged to perfection for  8 years. The cigar allows for a super smooth, toasty, and medium bodied smoke. It finishes with a creamy finish on your palate.
Gurkha Grand Reserve Toro (5.0"x52) A wonderful mild to medium-bodied smoke. This blend includes a Connecticut wrapper adding rich, creamy, and earthy flavors. If you prefer a milder smoke, this excellent blend promises a light finish.
Gurkha 1887 Red Rothchild (5.0"x52) Pleasant notes of nuts and vanilla combine to feature a caramel taste. This cigar is mild to medium in strength. The Red Signature 1887 provides a splendid and enjoyable smoking experience.
This is the perfect choice for any Gurkha Cigar lover and makes a great gift for cigar enthusiasts who enjoy premium cigars.
To buy Gurkha Gift set with Knife and Keychain, click here.