The Alec Bradley Coyol caught its inspiration from a single farm in Honduras and was later on introduced at the IPCPR 2014. This medium-to-full bodied cigar was named after the Coyol tobacco.
Here's what Alan Rubain, President of Alec Bradley had to say on the Coyol cigar to Cigar Aficionado Magazine:
Sometimes tobacco has great aroma or great flavor, but rarely does one have both. That is what makes Coyol so unique. The blend for this new cigar is designed around the Coyol tobacco, which is why I had to name the cigar Coyol.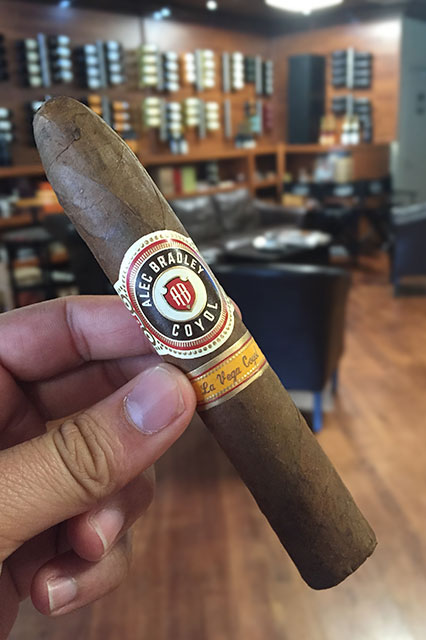 First-Third
The Honduran wrapper has a nice brown semi-oily wrapper with some vain. Taking a cold-draw, there is a nice aroma of barnyard, woodsy notes, and hints of toast. The construction is on-point and it is complimented with a beautiful cigar band with retro-style font and colors. Even the Alec Bradley logo has a slight alteration. Normally, the initials for Alec Bradley has a Vertical red banner style behind it. On the Coyol band, it resembles a shield instead. All interesting details that we hope is also conveyed in the cigar profile.
The first puff is filled with rich vanilla and cocoa notes with a nice creamy smoke. It settles in nicely with a nice complexity with creaminess complimented with caramel, cedar and espresso.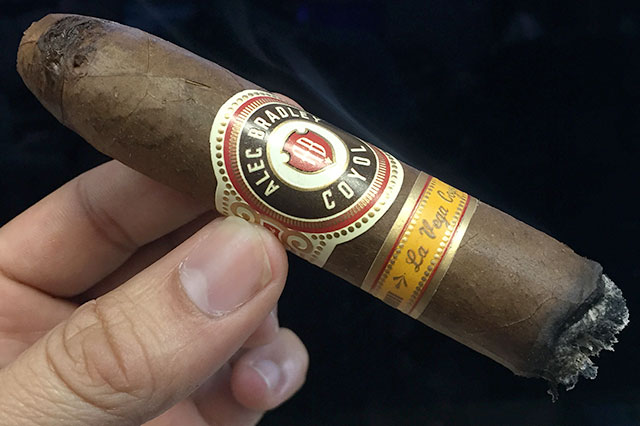 Second-Third
Tons of creamy taste with a mix of cocoa and white pepper with a great construction that makes it seamless to smoke. The vanilla, cocoa, and caramel notes because profound yet smooth. Between breaks, surfing online, I put the cigar down and a minute late I can pick it up and continue puffing my cigar without missing a beat.  Nice mix of vanilla, black cherry, earthy notes, nuts, toast and white pepper with rich black pepper to add depth to the flavors. So far it's been an excellent smoke with profound taste of cocoa, barnyard and creamy smoke. Medium to full range with tons of great smokes.
Final-Third
The Coyol still has great smoke with a slight toast. I had to re-light it once without a problem and there is still plenty of creamy smoke. Great construction, didn't need to fix the light. The earth notes moved secondary and were joined by some nut, pepper, and cherry sweetness. All in all, great smoke…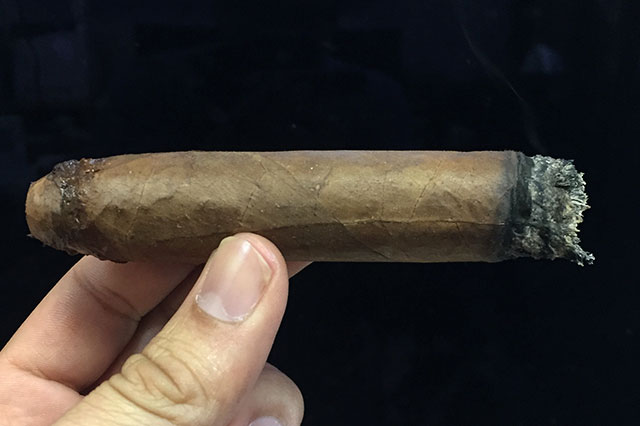 Conclusion
Excellent price point. Bang for your buck. Alec Bradley has created an excellent cigar that delivers in complexity, balance, and enjoyment. Outstanding draw. Never too loose or tight, just right.
Blend Details: Alec Bradley Coyol Belicoso 5 1/2 x 58
Time: 2:45 hours/min??
Price: $8.50
Wrapper: Trojes, Honduras
Binder: Jalapa, Nicaragua and Trojes Honduras
Filler: Esteli, Nicaragua, Condega Nicaragua, Trojes, Honduras