My Afternoon With The Avo Syncro Nicaragua Fogata
Wandering through the Mike's Cigar Bar walk-in humidor, I found myself looking for something different, for something that stood out. I passed through aisle after aisle until my eyes finally settled on a vibrantly designed box holding some exquisite looking cigars within. The instant recognition almost felt like seeing an old friend, and I realized how many times I had seen the bright orange hues on my insta-feed over the last year, not to mention the amount of "2016 top 10" lists that touted it as a solid smoke.
My search was over and I eagerly walked out of the humidor with my selection: The Avo Syncro Nicaragua Fogata.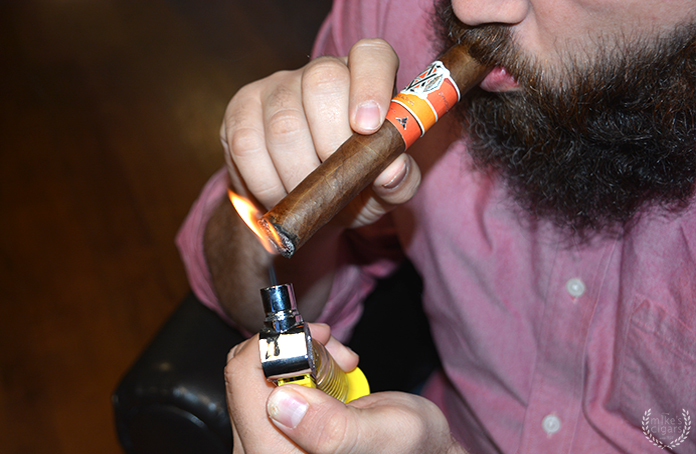 First Impressions
While Avo Uvezian cigars aren't typically my go-to smoke, I have smoked enough of them to expect a well-constructed cigar. Avo takes pride in their cigars and it really shows. The cigar was solidly built and had some great warm-tobacco notes that jumped out at me as soon as I removed the plastic sleeve.
The vibrant hues of orange that adorn the cigar and box are an embodiment of the name "Fogata", which means bonfire in Spanish. And as I sat there toasting the head I thought back to a bonfire some 30 years ago, and the advice that was given to me as I toasted my first campfire S'more  – "Place the marshmallow near the flame, not in the flame…", advice I have continued to share with my Brothers & Sisters of the Leaf over the last 15+ years.
But back to the cigar at hand:
Cigar: Avo Syncro Nicaragua Fogata
Color: Natural
Length: 6
Ring: 60
Wrapper: Ecuador
Binder: Mexico
Fillers: Dominican & Nicaragua
Size Sampled: Toro
Length of Smoke: 100+ Minutes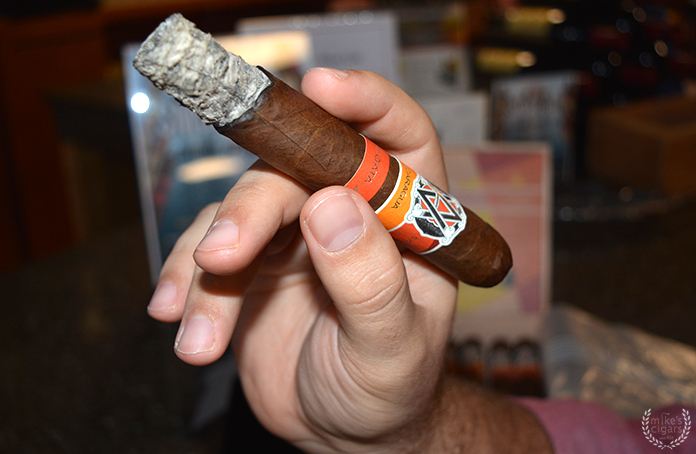 Summary
Knowing the ranking on the 2016 lists, and having seen other reviews before my smoke selection, I was expecting a really complex blend of flavors, with strong flavors varying throughout.
I did get a blend of a few flavors; including spice, wood, hints of earthiness, and leather (I haven't consumed much actual leather in my lifetime to make the comparison). But if I can be frank, only the creamy sweetness really increased and stood out throughout the smoke.
What I did get was a very smooth and creamy cigar, enjoyably sweet but not particularly memorable. Insofar as the strength, that was right in the sweet spot of a medium to full cigar, starting as a medium strength cigar and getting to the medium-full point right before the last third.
I really enjoyed the creamy sweetness of the Syncro, the draw and burn were near-perfect and the blend was nice but it was missing a certain wow factor. It was a nice smoke, but I may have built up my expectations a bit too high before I gave it a try.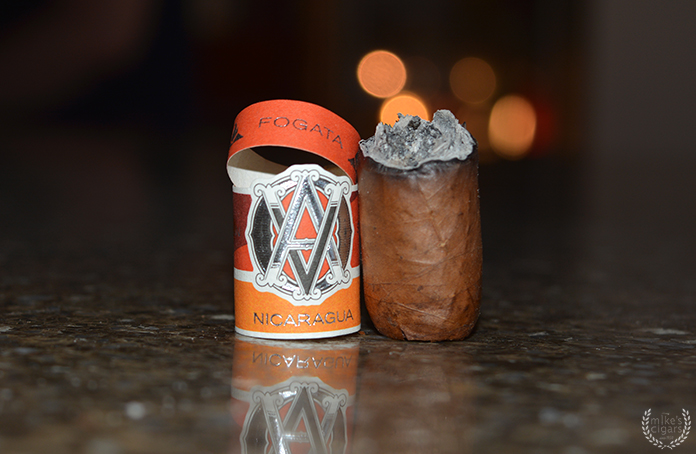 Recommendation 
That being said; I did add a few to my humidor, and here's why.
Every so often, I'll have a friend ask me to introduce them to the world of cigars. When that happens, I like to have what I refer to as "intro-sticks" on hand to help them understand what the allure is. Now, usually these tend to be cheaper cigars, and at about $10 a stick the Avo doesn't quite fall into that category. But if I really like the friend, and I want to truly welcome them to my favorite past-time, this will definitely be the cigar I use to welcome them into the world of cigars… and then I'll tell them about making S'mores….
Breakdown of The Smoke:
Construction: A+
Burn: A
Flavor: B
Foot:
Strength – Medium
Flavors: Creamy, Undercurrent of Sweet, Mild Wood, Mild Spice, Very Faint earthiness
Body:
Strength – Medium
Flavors: Creamy, Sweet, Moderate Wood,  Slightly More Subtle Earthiness
Head:
Strength – Medium-Full
Flavors: Creamy, Sweet, Moderate Wood,  Mild Leather
So I'll pose the question to you:
Have you smoked the Avo Syncro Fogata? what was your experience like? If you haven't tried it yet, give it a try and comment below.