General Cigar Co. made a big splash this year with the introduction of the Macanudo Inspirado Black & White. General Cigar Co. sponsored the Opening Night Party for Macanudo Inspirado, held on the first night of the IPCPR 2017 in Las Vegas. It's a rebranding effort from Macanudo to make the brand look modern and edgy. They also had many surprised through-out the General Cigar booth. Take a look.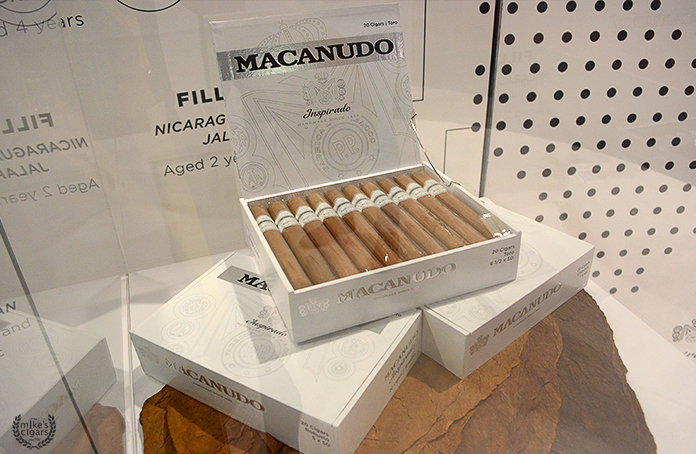 The idea has been talked about before, a new take on Macanudo. I haven't smoked the cigar, and haven't talked to anyone outside of General that has smoked either, but the company says it will be a much different profile than the core Macanudo lines with White being the lighter version and Black being a strong cigar.
The Macanudo Inspirado White is a thing of beauty. It has a Ecuadoran Connecticut wrapper that was aged for six years. An Indonesian binder balanced with Nicaraguan Condega and Mexican San Andres leaves, each aged for four years. Comes in 3 vitolas: Robusto (5 x 50), Toro (6 1/2 x 50), and Churchill (7 x 48).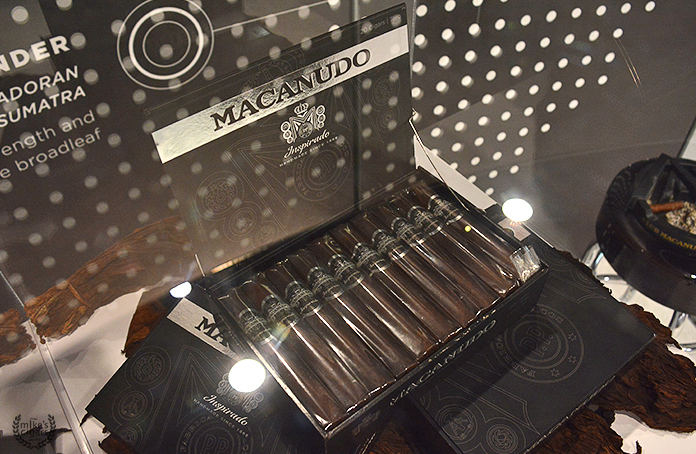 General sponsored the kick-off party on Monday, which featured rolling demonstrations as well as the ability for attendees to smoke each filler component separately, something that I imagine will be coming to a Macanudo event near you.
The Macanudo Black  is a balance of power, achieved by art and science. The Connecticut Broadleaf plants were left to ripen on the stalk. The results is a rich maduro wrapper with a kick of sweetness. It uses Ecuadorian Sumatra binder and a proprietary seed grown in Esteli, Nicaragua fermented to produce strength and power. It will come in 3 vitolas: Robusto (5 x 50), Toro (6 1/2 x 50), and Churchill (7 x 48).
CAO Amazon Anaconda
Although Macanudo Inspirado was all the talk in the General Cigar Co. booth, CAO also has some major buzz going for them. They introduced the Amazon Anaconda, the third installment of the super successful, Amazon Trilogy, which also features the Amazon Basin and Fuma Em Corda.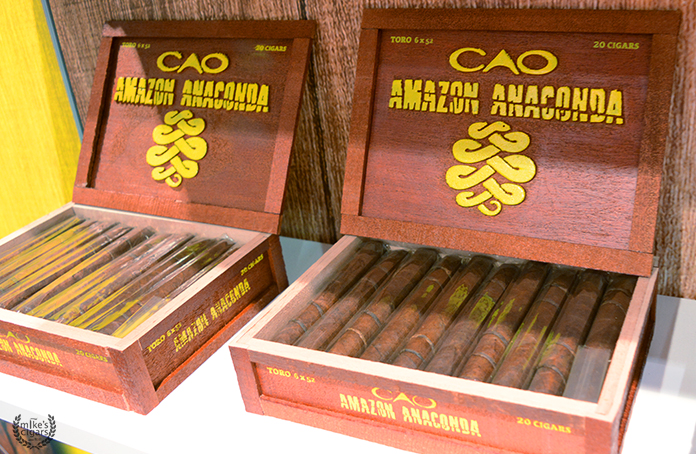 Amazon Anaconda combines the Brazilian Bragança and the Fuma Em Corda tobacco used in the release plus a Brazilian Bahiano wrapper. There is no other cigar in the world like Anaconda, because only CAO has access to this tobacco. It's offered in a single 6 x 52 size and is limited.
La Gloria Cubana also has a suprise up their sleeve this year. They introduced the La Gloria Cubana Colección Reserva, a collaborating with Ernesto Perez Carrillo. The cigar celebrates the 25th anniversary that La Gloria Cubana being rated on Cigar Aficionado magazine. Ernesto sold La Gloria to General's former parent company Swedish Match in the late 90's, continued working with them for a decade, then he launched his own company, E.P. Carrillo in 2009.
This cigar is produced at Carrillo Jr.'s Tabacalera La Alianza S.A. using tobacco from both Carrillo and General. The blend uses rustic Ecuadorian Sumatra wrapper and binder & filler from Nicaragua. It has three vitolas: Robusto (5 1/2 x 54), Torpedo (6 x 54), and Presidente (7 1/2 x 54).
Shawn Williams, Brand Ambassador of Cohiba Cigars talks about Cohiba's latest blend. It's a velvety, medium-bodied cigar with a rich, complex taste with notes of cocoa, caramel, and earth. It has been receiving rave reviews from cigar enthusiast since it launched earlier this year in 2017.
Carlos Torano
Jack Torano  talks about Cohiba's latest blend. They added two new lines to they're Vault series the Vault E-021 Royal Blue and W-009 Yellow. The blue is a Honduran blend with the yellow is a Nicaraguan Sungrown wrapper. They are great, affordable premium cigars.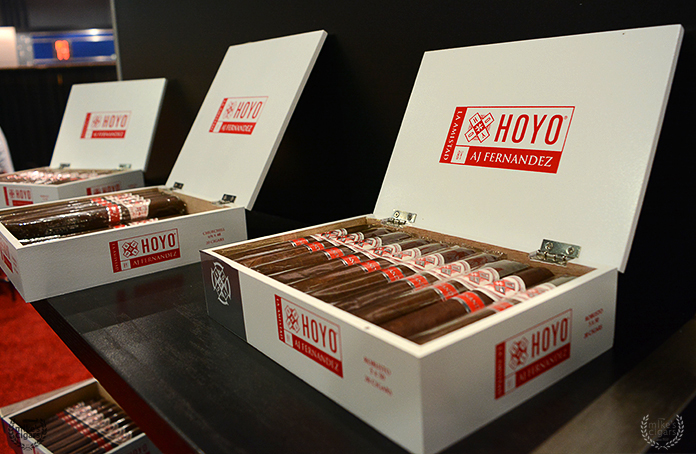 This cigar is the follow up to the original La Amistad, one of the A.J. Fernández-produced General products from 2016. Cigar Master AJ Fernandez has created an exciting new blend featuring all Habano seed tobaccos. The cigar is a robust, meaty smoke, rich with notes of earthy and black pepper. It comes in three vitolas: Robusto (5 x 50), Pancho (5 1/2 x 52), and Churchill (6 7/8 x 48)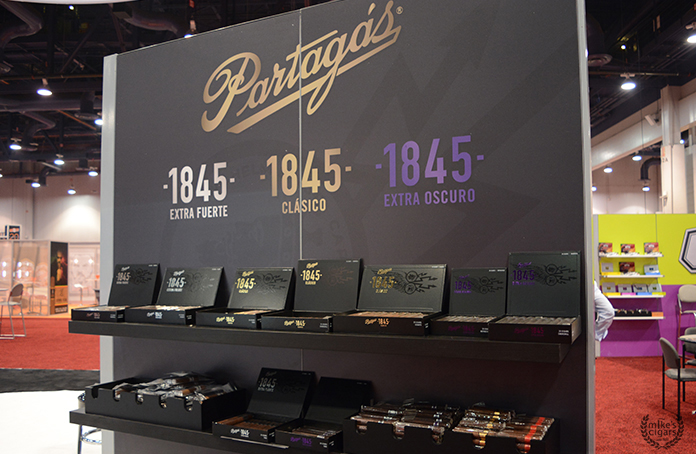 Partagas 1845 Clásico, Extra Furte and Extra Oscuro
The Partagas 1845 line is completely revamped. The bands are the same, but the boxes and more importantly, the blends, have changed. All three lines will ship in August to both brick and mortar and catalog retailers.
The Partagás 1845 remains one of the most successful new cigar collections in recent history. They have taken the blend and updated them with a more modern look and feel while still paying homage to their roots.
Partagas 1845 Clasico
This is a medium-bodied cigar with creamy notes with hints of toast and nuts. Cigar lovers can expect even deeper, richer flavors with an increase in complexity while an affordable price point. It has an Ecuadorian Sumatra wrapper, Connecticut Broadleaf wrapper and Dominican & Nicaraguan filler. Comes in four sizes: Gigante (6 x 60), Churchill (7 x 49), Toro (6 x 52), and Robusto (5 x 50).
Partagas 1845 Extra Fuerte
The newly blended Partagás 1845 Extra Fuerte has a balance between intensity and complexity. This is truly a full-bodied cigar that features aged ligeros from Nicaragua and Honduras. It has Honduran wrapper, Connecticut Habano binder and Dominican & Nicaraguan filler. Comes in four sizes: Gigante (6 x 60), Churchill (7 x 49), Toro (6 x 52), and Robusto (5 x 50).
Partagas 1845 Extra Oscuro
The Partagás  1845 Extra Oscuro is a bold profile with a beautiful rich and oily wrapper. It has savory notes that intensifies as the smoke progresses, to deliver a cigar full of delicious flavors The wrapper is Connecticut Broadleaf, binder is Connecticut Habano and filler from Nicaraguan, Honduran, & Dominican Republic. Comes in three vitolas: Churchill (7 x 49), Toro (6 x 52), and Robusto (5 x 50).