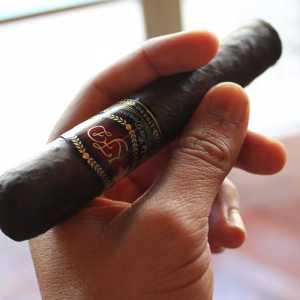 It's time for a cigar review and I'm excited to be reviewing La Flor Dominicana Ligero Cabinet Oscuro. Athough it's not new, I've been contemplating smoking this cigar for a while now. I've been keeping my eye on this cigar and it's about that time to sit back, get a drink, and let the aroma serenade around me. This cigar is a L- 500 Cabinet coming in at 60 x 5 3/4. They also have other size such as 400 Cabinet, 300 Cabinet, 250 Cabinet, 200 Cabinet, and Torpedito. Now, let's light this baby up and see what it's made of!
After lighting this bad boy up, which is Oscuro, not Maduro, I notice it has a great structure to it. Beautiful, shiny, rich Ecuadorian Sumatra wrapper, and nice Dominican binder and fillers from their own farm in La Canela, Dominican Republic. It has a very oily wrapper with excellent texture to it and the veins have a slight embossed to it. You can immediately sense that it's a full body cigar yet it's rich and so far, enjoyable in its first few puffs. Looking at this 500 Cabinet, you would think it would feel heavy because it's dense but it feels cozy holding it. Once I fired it up, there is a rich aroma of leather with slight hints of pepper that is gratifying. So far, I've been smoking the cigar for 15 minutes.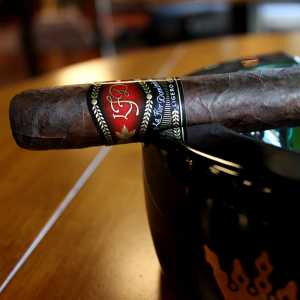 Now, I've been smoking the La Flor Dominicana Oscuro for a little over 45 minutes and I'm still enjoying the rich body taste which I've steadily tasted an increase elements of leather and earthy flavors. A nice progression of creamy scent has slowly developed like a drummer slowly crescendoing his cymbals to compliment the guitar and bass during the bridge section of a song. The construction of the cigar has been superb with a steady smoke of what I would call, intensively rich and it has mellowed a little bit. I would suggest to eat a nice size meal before smoking a Ligero Cabinet Oscuro.
After an hour and fifteen minutes of smoking The Oscuro, it has come to an end my friend. Overall, the La Flor Dominicana Cabinet Oscuro is an outstanding cigar that is just a step under a full-bodied cigar with great consistency of rich, earthy, and spicy smoke. Each puff generated a bundle of smoke that I enjoyed. The burn was very consistent except for 1 time I had to rotate the cigar, otherwise I had no serious issue with it. I would recommend this cigar for anyone to experience after enjoying a nice lunch or dinner. Now kick back and enjoy an impressive rich cigar with a favorable price point.