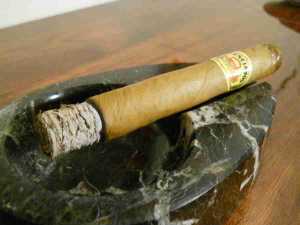 Today's review is the Licenciados in a toro 6×50 ring gauge. This is a great cigar at a bargain price. It's handcrafted by Manual Quesada in his MATASA factory in the Dominican Republic. If you're a lover of Macanudo cigars, you'll probably enjoy the Licenciados. I'm smoking the connecticut shade wrapper  and by the looks it would be considered a higher quality wrapper. The appearance is great. It has some veining, but overall a nice looking cigar.
As I lit up, I couldn't help but notice several nice nutty notes right off the bat. That was something I wasn't expecting, because most of the time you will get a bitter tone on less expensive cigars. Not this one! In fact, Manual Quesada blended this cigar to taste like a Macanudo. He kicked things up a notch by adding some rich flavors that we will get into shortly.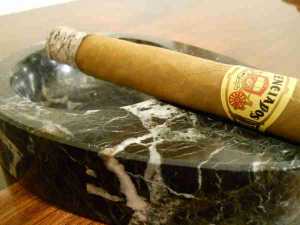 There is a nice smoky aroma that is hard to place, but it's something close to a mixture of cream and spice. It flows effortlessly with every puff of the cigar. You will notice a nice flaky ash along with big beautiful wasps of smoke. As you get about fifteen minutes or so into the cigar, you'll taste milk and light coffee tones. The burn has been spot on and the draw is right in my range of above average to excellent. If you really dig deep, you will notice some very light spice undertones, another pleasant surprise that I wasn't expecting.
As you hit the midway point, the spice notes found earlier begin to pick up. Rich creamy undertones of milk are also evident. At this stage I would classify this as a mild to medium body cigar. On the back half of the cigar, expect the nutty tones to pick up along with the coffee. The milk and spice tones remain pretty consistent to finish out the cigar.
While not an overly complex cigar, it is a very enjoyable smoke. Rich and consistent are two words that come to mind. If you love connecticuts or are a fan of Macanudos then I would highly recommend the Licenciados. Oh, and I should mention it received a 93 in Cigar Aficionado. For me, I've personally added this as one of my everyday cigars.