As with each passing year, the experts at Cigar Aficionado have decreed what sticks were truly the best 2021 had to offer. This year, the top honor went to the Padron 1964 Anniversary Torpedo (natural). Their tasters wrote "The Torpedo serves as a fine example of everything the Padróns wanted to achieve. Box-pressed and attractive, it starts with a woody, nutty core that gradually becomes more complex. Notes of hazelnut are uncannily precise and segue into a rich, opulent smoke of cocoa bean that settles onto the palate like the fine confections of a chocolatier. The draw and burn are perfect and the cigar's only flaw is that it ends."
While the entire world is currently waiting with anticipation for a state of the Padron 1964, it should be said some patience is required. Padron is currently ramping up production, but as always, quality has to come before quantity with every cigar. Aficionados will likely have to wait for quite a while before the cigar is back in stock, but in the meantime, we decided to spotlight those stogies from the Top 25 where the wait is considerably shorter.
Montecristo 1935 Anniversary No.2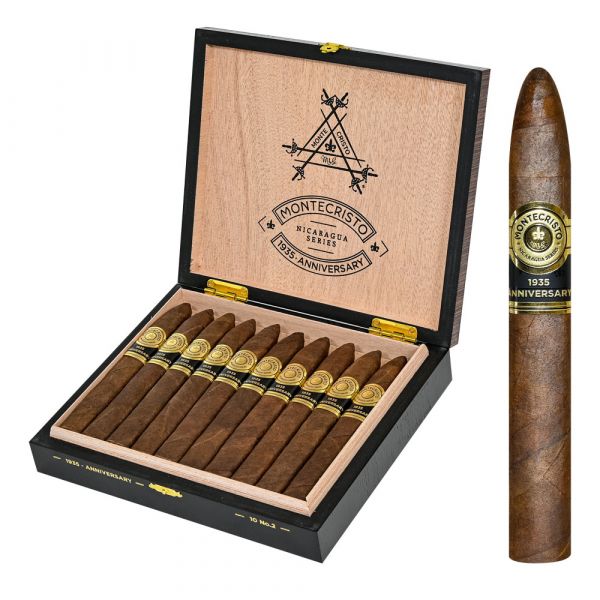 It's a great year for Anniversary smokes, as the aptly named Montecristo 1935 Anniversary No.2 took second place, with the experts saying its flavor profile "plays out beautifully here with a spicy, earthy backbone refined by notes of leather, coconut, and malted milk." It's no wonder our own tasters described it as a "culmination of everything Montecristo has built over its decades of providing sumptuous smokes." Can't get your hands on the Torpedo, check out the entire Montecristo 1935 Anniversary line!
San Cristobal Quentessence Churchill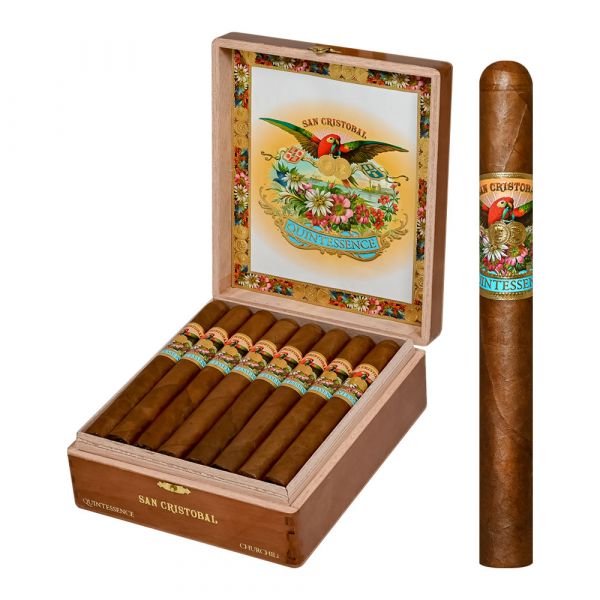 After taking the number one spot back in 2016, it came as no surprise to the experts that its new vitola wound up taking third five years later, with Aficionado saying "It's rich, nutty and complex conveying an earthy foundation of coffee bean character, a mid-palate of baking spices and a charming, cappuccino finish" Our own tasters had a similar opinion, saying the "Quintessence illuminates the palate with sweet notes of molasses, coffee, black pepper, and a symphony of spices." If you're having trouble finding the Churchill, try out one of the many other vitolas from San Cristobal Quintessence Cigars.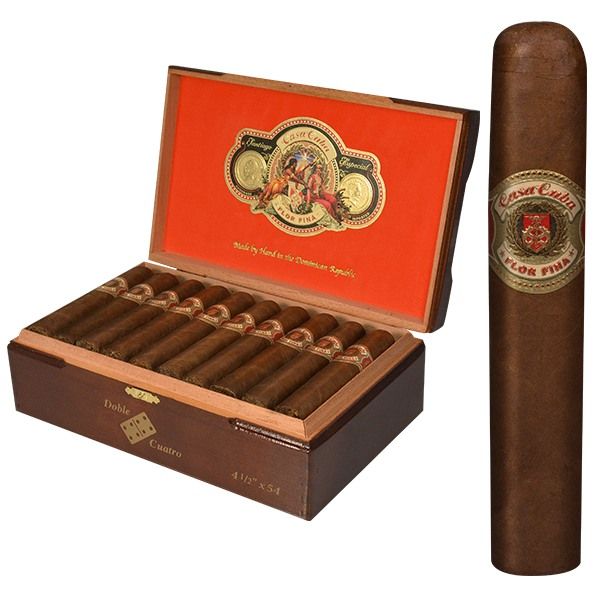 A true classical style smoke, the Casa Cuba Doble Cuatro was a frontrunner for the best of list from the moment it was released. Taking the number five spot for 2021, Cigar Aficionado wrote, "the Doble Cuatro tempers each subtle, spicy note with sweet intonations of molasses and licorice. It's a bow to the past as Carlos Fuente Sr. saw it, and a lovely cigar no matter your family history." Never one to contradict the experts, our own tasters described it as " smooth with subtle hints of spice from the moment you light up to the moment you reach the final nub." The Casa Cuba Doble Cuatro is limited to in store sales only, so stop on by our store at 1030 Kane Concourse, Bay Harbor Islands, FL 33154! If you can't manage to get the Doble Cuatro, there are plenty of other critically acclaimed smokes from the Casa Cuba line!
Oliva Serie V Melanio Maduro Churchill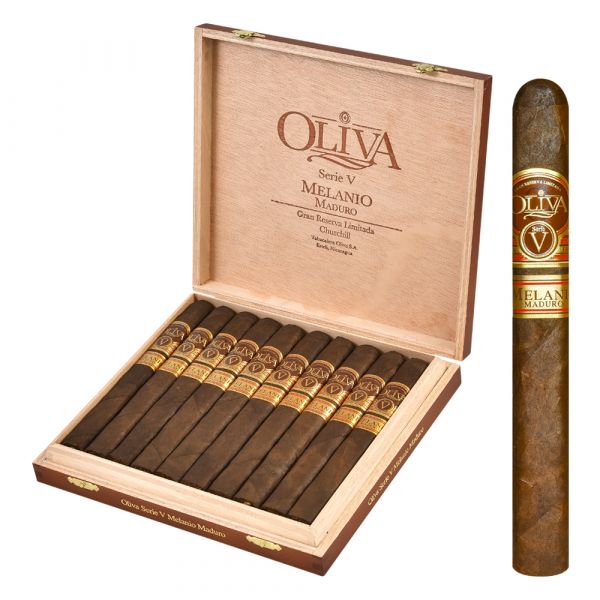 Luscious and luxurious from the first draw, its easy to see why the Oliva Serie V Melanio Maduro Churchill took the number 7 spot with Cigar Aficionado describing it as "luxurious procession of rich, regal character starting with notes of German chocolate cake that segue into a smoke of baking spices, malted chocolate and lively, cedary accents." Our own description wasn't far off, "A fantastic cigar built from fillers aged in the Nicaraguan estate-grown Habano ligro, known for a more distinct leaf than the Esteli or Condega regions, and famous for its robust and rich flavors added with its sweet Jalapa" For those who need the rich taste of the Churchill right now, but have trouble with the demand, check out some of the other luscious vitolas from Oliva Serie V Melanio.
Rocky Patel Grand Reserve Robusto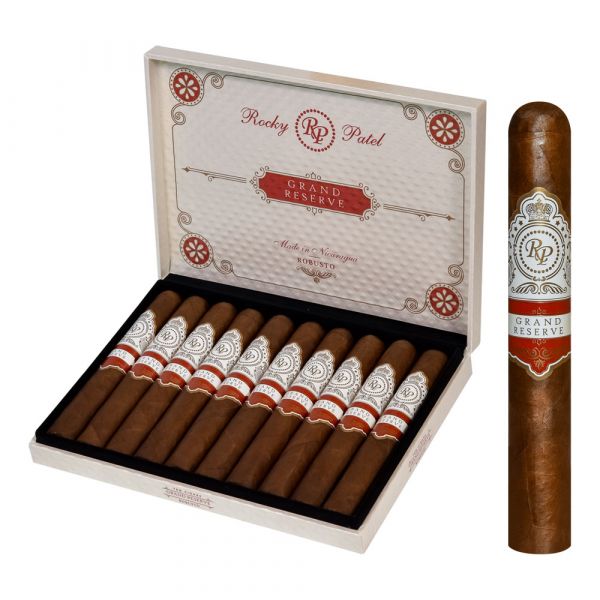 It wouldn't be a true top 25 without a Rocky Patel cigar! This year the Grand Reserve took the number 9 spot because, " Each puff is loaded with a savory, leathery quality that sets the stage for subsequent notes of crushed peanut and red meat. Sweet transitions to salted caramel and licorice are seamless." Not to be outdone, our own tasters said "This super creamy Robusto offers the delicate sweetness of dried fruit and chocolate, the delicate bitter tones of tea, as well as woody, leathery, and nutty aromas. Caffè latte and herbal spice are "just" the encore." There is plenty to enjoy beside the Reserve Robusto, so be sure to smoke one of the many other vitolas from Rocky Patel Grand Reserve.
Arturo Fuente Rare Pink Vintage 1960's Séries Happy Ending

Another name that inevitably had to make the top 25, Arturo Fuente outdid themselves with the Happy Ending, earning the number ten spot and such acclaim as "an exciting composition that starts slowly with layers of earth, hazelnut and coffee. Once the burn goes beyond the tapered foot, the smoke bursts like a literary climax with orange peel, cloves and gingerbread." This one is particularly rare, with some stores not even having s ignle box yet, but smokers who are craving its taste can get that stogie and more in our CRA Freedom Cigar Sampler. Be sure to check out one of the many equally acclaimed cigars from Arturo Fuente!
Aging Room Quattro Nicaragua Concerto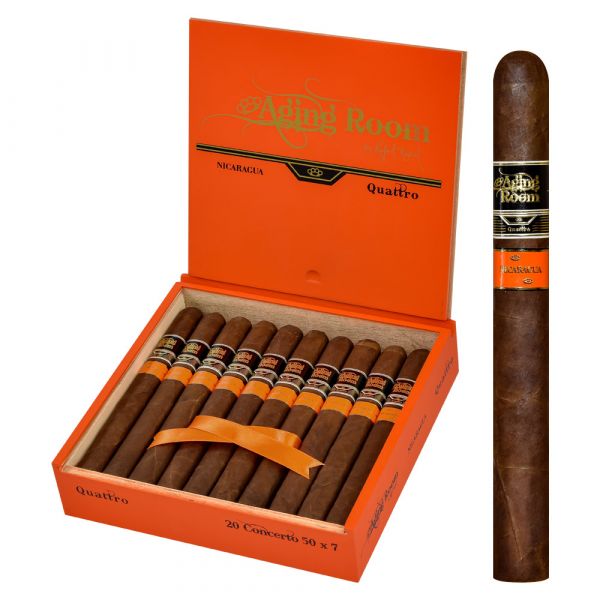 Once taking top honors in 2019, Aging Room Quattro Nicaragua is back with a new vitola and the number 14 spot, with one reviewer saying "the blend that gives us the finest performance: an orchestral suite of flavors that range from espresso and chocolate to pecan and caramel. A note of star anise resonates on the finish for a lasting encore." We agree, as our tasters said " this cigar is a testament to that! Rafael Nodal has been able to work with many different cigar makers since he teamed up with Altadis USA. Unlocking his potential and the potential of cigar makers like AJ Fernandez and the Placencia family". If you can't get a hold of a box of the Concerto, check out the rest of the award-winning Aging Room Quattro Nicaragua line.
Herrera Esteli Habano Robusto Grande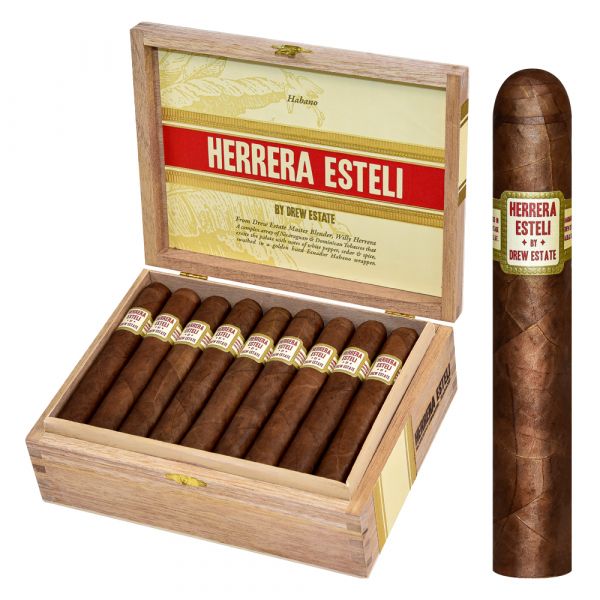 Taking the number 15 spot, its the one and only Herrera Esteli Habano Robusto Grande. A true champion smoke, Cigar Aficionado said "The Robusto Grande delivers a substantial, yet balanced, smoke of earth and pepper underscored by sweet, nutty elements of salted peanut, candied pecan and caramel. A toasty finish makes this cigar as cohesive as it is flavorful." Our own experts lavished the taste for its "profile that delivers notes of spices, white pepper, semi-sweet vanilla, cedar, cream, and roasted nuts." Don't forget to check out all the wonderous smokes from Herrera Esteli!
My Father The Judge Grand Robusto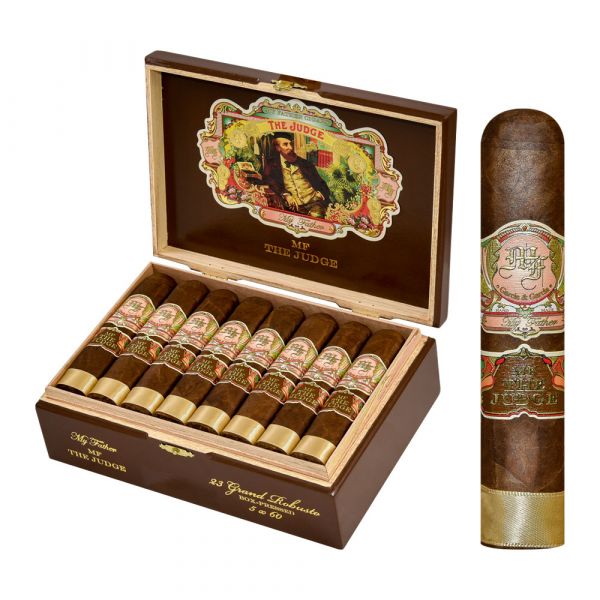 It's practically tradition for My Father Cigars to make the list, and this year The Judge Grand Robusto took number 17 with Cigar Aficionado saying "the Grand Robusto has the look and taste of a chocolate bar, with sweet hints of peanuts, caramel and just a touch of red pepper spice." Our own experts were blown away by the blend's origin writing "Using a new Sumatra blend "The Judge" is finished in beautiful Sumatra Oscuro wrapper from Ecuador. Using a full blend of Nicaraguan tobaccos the binder leaves are 2 different leaves one is a Corojo and the other is a Criollo." For those who can't seem to find the Robusto in stock, there is plenty to enjoy from the other sizes in the My Father The Judge line!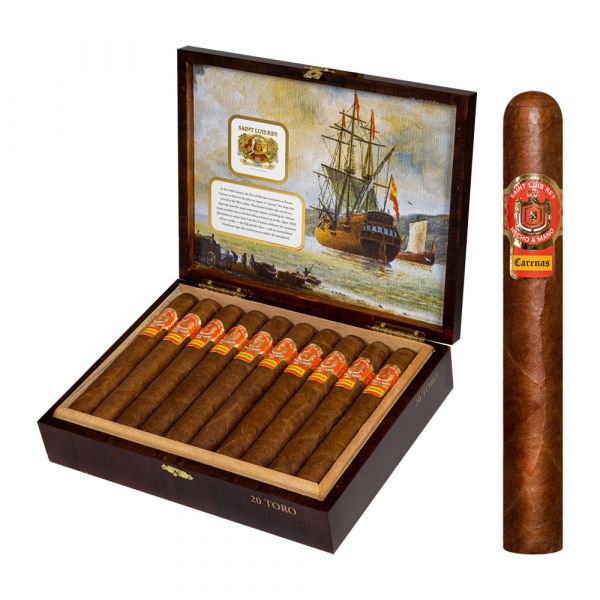 A surprise addition to the list, but a welcome one. Saint Luis Rey Carenas was awarded the number 19 spot as "The Toro kept us wide awake as spicy notes of ground red pepper, snaps of leather and almond played off the woody core." Our tasters were just as transfixed, writing "a sumptuous smoke brimming with earth spices and subtle notes of salty air." Be sure to see what else Saint Luis Rey Carenas has to offer!
Ramon Allones by AJ Fernandez Torpedo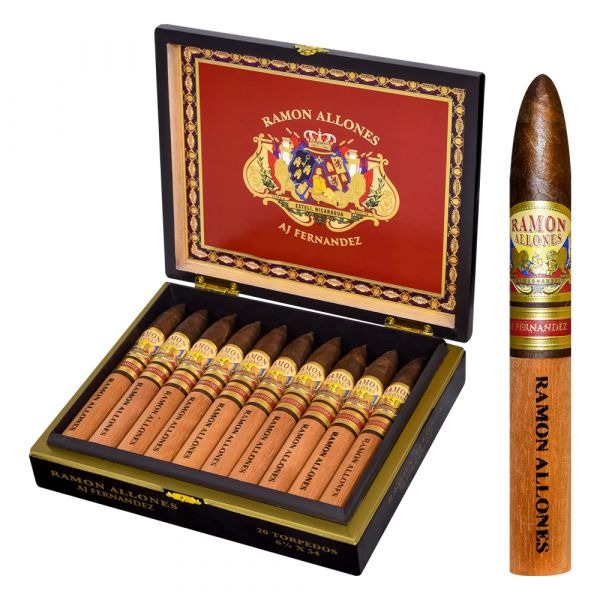 Who but AJ Fernandez could win such consistent acclaim, as his expertise is all over the Ramon Allones. Taking the number 22 spot, Cigar Aficionado commented "Like many Fernandez cigars, the smoke is strong, showing a hearty mix of raisin and walnut notes with a tangy hint of cedar." Our sentiments exactly as we wrote, " AJ's interpretation of this classic Cuban brand is sure to wow aficionados with high standards!" It might be difficult to find a box of the Torpedo, but the blend is just as excellent in other Ramon Allones by AJ Fernandez
Ashton Heritage Puro Sol Churchill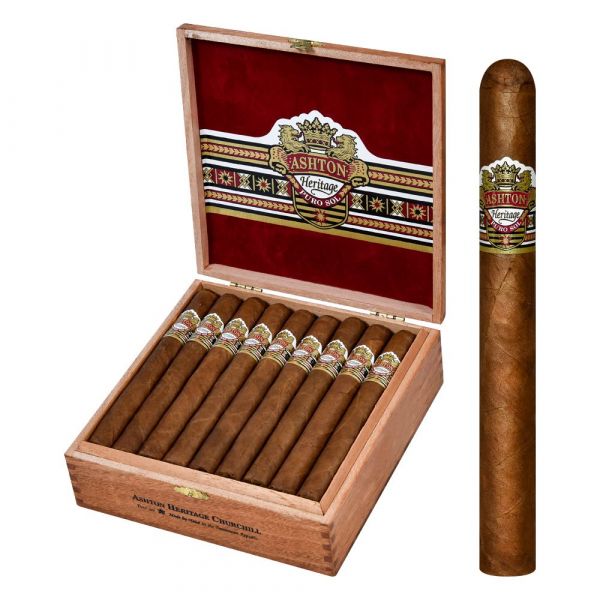 Is there a more trusted name in luxury cigars than Ashton? Evidently not, as the Puro Sol took the number 23 spot with Cigar Aficionado writing, " It delivers a complex weaving of hickory, walnut and leather notes with a touch of smoky, earthy flavors reminiscent of your last dram of Islay Scotch" We couldn't agree more as we wrote, "This exquisite cigar marks the first time a Cameroon wrapper has surrounded an Ashton brand blend and the results are stunning." Not a fan of the Churchill, try one of the other wonderous Ashton Heritage Puro Sol!
EP Carrillo La Historia E III – Churchill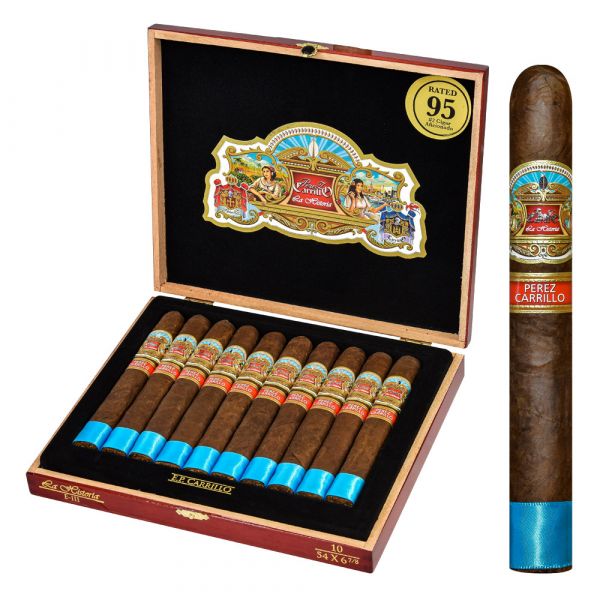 After the show-stopping debut of Pledge Prequel last year, another EP Carrillo making the list was inevitable. This time its the number 24 spot as Cigar Aficionado commented " It returns to our list with its bold, flavorful blend, redolent of coffee, wood and earth, even a touch of briny olive." Our own tasters were just as transfixed, writing, " Once you light one of these cigars, you'll instantly taste the draw of rich, roasted nuts, coffee, hints of black pepper, and dark cocoa and hints of creaminess." There's also a lot to explore in the other sizes available from the EP Carrillo La Historia
Alec & Bradley Kintsugi Corona Gorda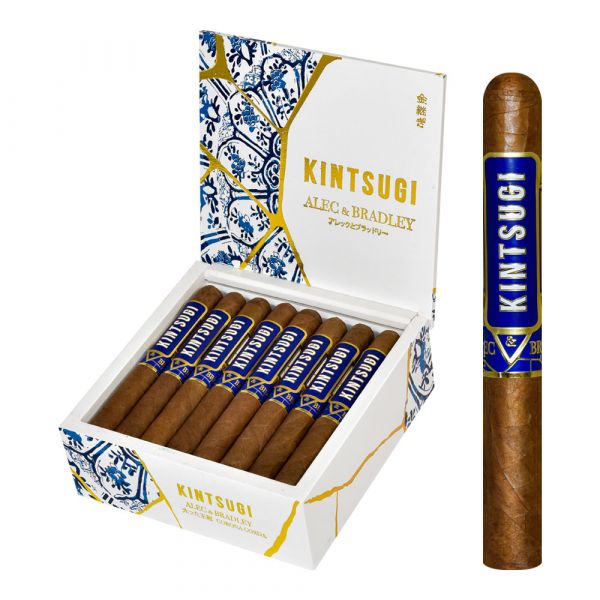 Eastern transformative art doesn't sound like it'd make a good inspiration for a cigar, but the Alec Bradley Kintsugi proves that notion wrong. Taking the number 25 spot, Cigar Aficionado wrote "Unbroken, however, is the clear rendition of flavor that's so artfully conveyed by the corona gorda: dried fruit, cinnamon, espresso bean and hazelnut come together for a complete picture." Our own tasters fell in love with this cigar writing, "You'll be transported by the intoxicating aroma and a delectable flavor profile that is overflowing with notes of cinnamon, coffee, and spice." Be sure to also check out the other amazing vitolas in the Alec Bradley Kintsugi line!
Did you have any favorites from 2021? Let us know in the comments!
Wondering where to buy cigars? Mike's delivers near and far!