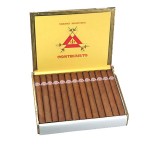 Known as one of the most famous cigar brands in the world, Montecristo has topped the world's renowned cigar list. The cigar has emerged as a top cigar brand with the highest ratings from its American consumers. Made in La Romana, Dominican Republic, the mild to medium bodied cigar has a wrapper from Connecticut and a binder and filler from Dominican Republic so that you can have the best smoke. Montecristo cigars deliver its lovers with rich taste with silky notes of roasted almonds and sweet coconuts that result in a delicious harmony.
New or existing cigar lovers around the world will find the cigar tasteful and perfect to enjoy. The perfectly designed cigar exceeds the expectations of cigar lovers. You can get the best deals on Montecristo cigars that are available in singles, packs, and boxes.
The cigar is available in different versions including Montecristo 75th Aniversario, Montecristo Afrique, Montecristo Classic, Montecristo Flor Fina, Montecristo Habana 2000, Montecristo Platinum Series, Montecristo Red, and Montecristo White. All the versions of cigars provide smokers a unique smoking experience that they rarely find from other cigars in the market. The cigar never allows smokers to feel dejected and unhappy. Enjoy some today!