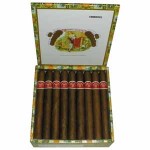 Originally established by Inocencio Alvarez and Mannin Garcia in 1875, Romeo y Julieta is one of the most famous Cuban cigars. Since then, the cigar has gained immense popularity amongst cigar lovers for its flavor and taste released from its medium-sized body. Elegantly crafted by skilled cigar makers in the Dominican Republic, the cigar has an Indonesian wrapper and its binder and filler is from Dominican Republic.
Affordability is the best factor of the cigar that allows all smokers to grab it into their reach. The cigar does not burn a hole into your pocket. It not only gives you a perfect smoking experience, but also offers you a chance to taste one of the best Cuban cigar lines.
The ingredients used to form a complete cigar work together to create a rich and aromatic smoke.
All the versions of Romeo y Julieta are perfectly made by experienced and professional cigar makers so that you don't miss the perfect taste and flavor that you expect from a genuine and superb cigar. If you want to have a cigar that makes you feel special and distinguished, you need to have Romeo y Julieta 1875 so that you can consume in a style.