Punch cigars has a rich history line of superb lines like the Rare Corojo and in 2015 they released the Punch Signature. Now they have released a new line to their catalog, the Gran Puro Nicaragua. Although the name "puro" would imply that all the tobacco is purely from Nicaragua, this cigar goes against the grain a bit and uses a Connecticut Broadleaf wrapper.
Nevertheless, it's intriguing to see what Punch has crafted with they're latest cigar. Crafted in four sizes—4 7/8 by 48 (a short Robusto), 5 1/2 by 54( a Robusto), 6 by 54 (a Toro) and 7 1/2 by 54 (a Churchill).
"Punch Gran Puro has been a true staple in humidors for over a decade and the brand's recently-received high ratings have cemented its legacy in the handmade cigar category," said Ed McKenna, director of marketing strategy for General Cigar. "For the extension of the Gran Puro line, our artisans built a blend that balances Nicaraguan tobaccos with a maduro wrapper to deliver a layered, dimensional flavor not traditionally found in Nicaraguan-based cigars. We are confident that Punch Gran Puro Nicaragua will be a fast favorite among tenured smokers."
Specs:
Made By: General Cigar Co.
Country: Honduras
Wrapper: Connecticut broadleaf
Binder: Nicaragua
Filler: Nicaragua
Factory: STG Danlí
Strength: Medium
Ring Gauge: 54
Length: 5 1/2
Smoke Time: 1 hour and 12 minutes.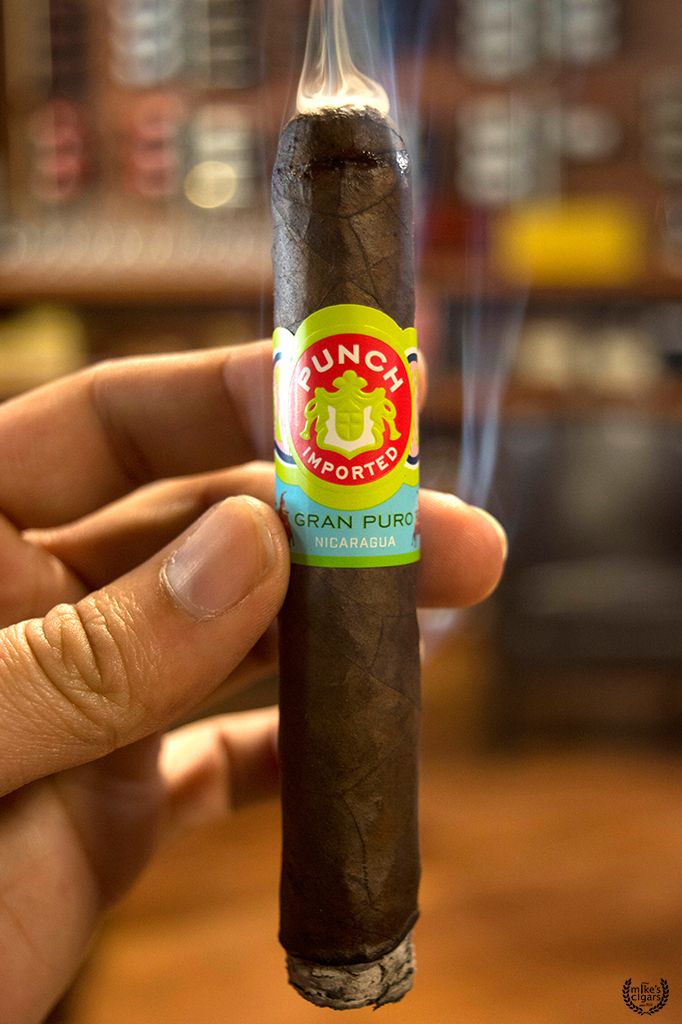 First Impression:
First thing that stands out is the bright, colorful band. It has a lime green, sky blue accents and a hint of green accent color combination. In the center of the band you see the signature Punch logo but there is a slight difference in color from the core cigar bands. A unique feature is that the Punch shield logo is lime green compared to other Punch band emblem being gold and white. I'd love to know the brand-meaning behind it. Of course, the band has the Mr. Punch logo between the name of the cigar. The band feels like it has a tropical concept that gives off the experience of smoking a Nicaragua cigar in the country.
After that, next thing I notice was the beautiful, rich, semi-gloss Connecticut Broadleaf wrapper. It has a smooth texture with some veins present with semi-visible dark spots. The construction is excellent with a few soft spots and has a solid double-cap. When you hold the wrapper close, you'll notice a faint smell of cocoa and cedar. The foot of the cigar as a more profound scent of cocoa with hints of honey, hay, and pepper. So far it's looking like this cigar could have potential to be an enjoyable smoke.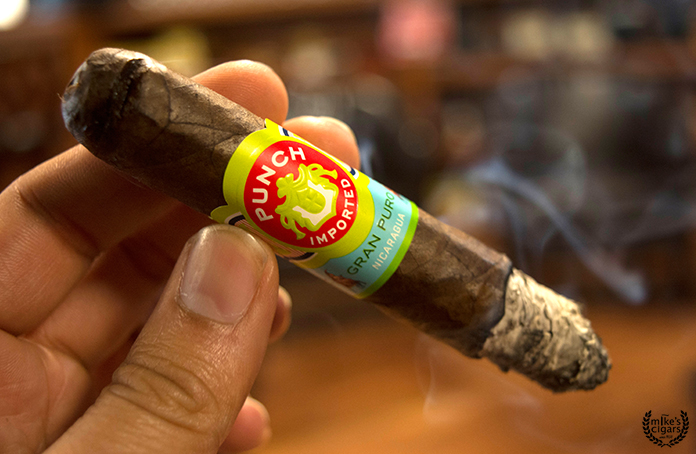 First Third:
The first puff of the Punch Gran Puro Nicaragua has a nice burst of sweet, cedar, toasty, leather notes. The sweet notes is a noticeable surprise from other cigars. It has a great construction, excellent burn and plenty of creamy, rich smoke with each puff I take. The draw is effortless with each puff that I take of this medium-bodied smoke. There's an enjoyable sweet after-taster with each puff so far. It produces a half-inch of firm, white ash. By the end of the first third, notes of cocoa become more dominant while the sweeter notes settle down a bit.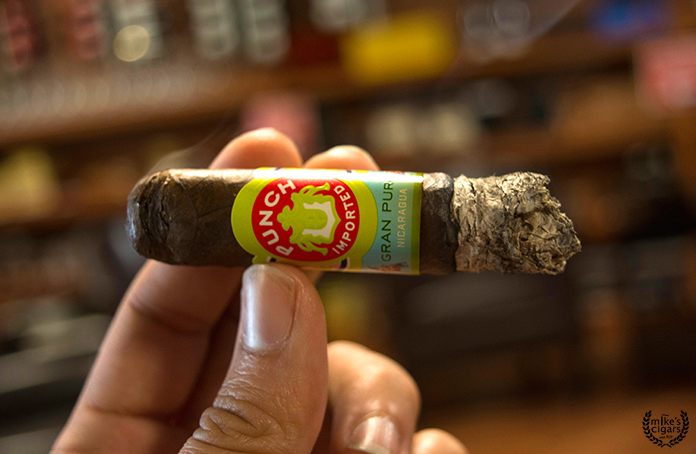 Second Third:
By the start of the second-third, notes of cocoa, toast, pepper and molasses are the dominant taste. The intensity of the profile calms down to a smooth and enjoyable smoke with an excellent burn. Peppery notes starts making it's way in the profile like a crescendo complimented by notes of espresso and cedar. The retrohale is producing subtle notes of pepper, honey, raisin, and hay.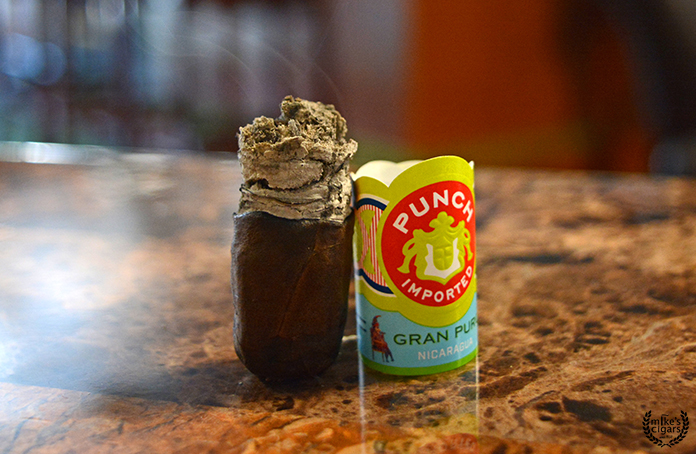 Last Third:
The Punch Gran Puro Nicaragua has gotten to be more robust smoke with dominant notes of espresso, pepper and black cherries. This is a great cigar to enjoy on a weekend as it burns slowly while being an enjoyable smoke. The cigar is nearing full-bodied smoke with faint white smoke with each puff taken. With each puff, you feel an after-taste of tingling sensation on the center of the tongue. The last retrohale continues with mild pepper, cocoa, and mild notes of honey. As the cigar begins to feel warmer and soft, I take one last puff before I put it down.
Summary:
This is not your typical Punch cigar smoke.
The Gran Puro does have core qualities of Punch cigars; great construction, sharp burn, flavorful yet profile wise, it carves its own path of more prominent notes of cocoa, fruit, honey and pepper
.
It's a great blend considering Punch cigars
are made
in Honduras and Dominican Republic
. No re-lights required throughout the smoking experience.
The Connecticut broadleaf, complimented with the Nicaraguan binder and filler tobaccos provided a nice combination of sweet notes with smooth, robust flavors
.
This is a great after-dinner smoke to enjoy with whisky.
If you enjoy Punch cigars, you might want to try this one and if you enjoy cigars that are less-peppery, give this one a shot
.
Have you smoked the Punch Gran Puro Nicaragua? Let us know what you think.