Smoking fine cigars is a relaxing and luxurious activity. When you smoke a cigar, you are sure to enjoy richly layered flavors along with a sense of style and taste. Let's look at some top cigar accessories and how to organize them.
To ensure that luxurious feeling that comes with smoking cigars, one needs to make sure they are using the correct accessories. Using the proper accessories can help maintain the freshness of your cigar. It provides an excellent cut & smooth burn.
Make sure you purchased the necessary accessories  like cutters, lighters, ashtrays, humidors. The only thing left to worry about is how to make sure that they are always in the right place when you need them. Nobody wants to sit down to enjoy a nice cigar only to realize they're missing their lighter or ashtray. But when everything is organized neatly and carefully, then you can sit back, relax & enjoy your top quality cigar. Continue reading on to find out which accessories will help keep your cigar smoking hobby easy and relaxing.
An immense variety of humidors are available to match the individual needs of cigar smokers worldwide. For example, Don Salvatore humidors often have glistening rosewood exteriors that provide a sleek, timeless look. Also, they offer well designed storage for 90 cigars or more.
Double humidifiers provide an even flow of moisture. It has an externally mounted hygrometer enables tracking of interior conditions. Some humidors feature glass tops. The El Rey, permitting display of cigars without exposing them to dry air. Small travel humidors capable of holding 20 cigars are offered by firms like Florence.
A quality cut is the crucial first step of any good cigar smoking session. The ability to make this cut precise will help prove you are a knowledgeable and experienced cigar user. Several different styles are available to match your personality and preference. Modern rectangular slice cutters by Cohiba and Xicar's teardrop Xi2 give a contemporary sensibility. The Xi2 is made out of light, unbreakable nylon fiberglass. The blades are from super-hard 440 stainless steel, with a Rockwell rating of 57. It provides razor keen cuts and reliable chopping through the cigar's cap. Lifetik's metal ring cutters offer both style and precision to users.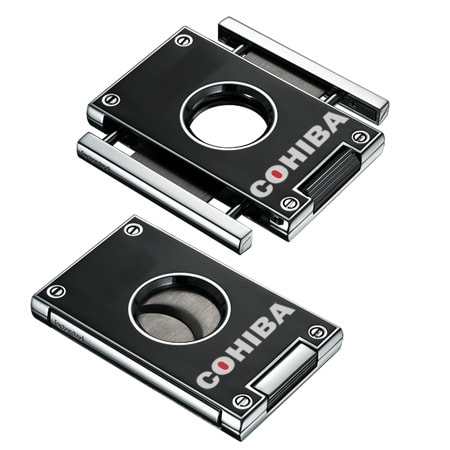 The newest cigar lighters are made to simplify the process of getting an even burn started. Godzilla's triple torch lighters start a burn across the whole width of the cigar foot. They are available in several different colors. Rocky Patel designs multi-flame lighters with a slick "Art Deco" look that transports you back to the Gilded Age. Some have special details, such as the small mirror in the cap of Volcano's triple torch lighters. It's meant to give a view of the cigar foot for accurate lighting. For technologically advanced smokers, coil lighters, such as the iFlame, can be charged through a USB port. You can take them to places that butane lighters cannot, such as on a commercial airliner.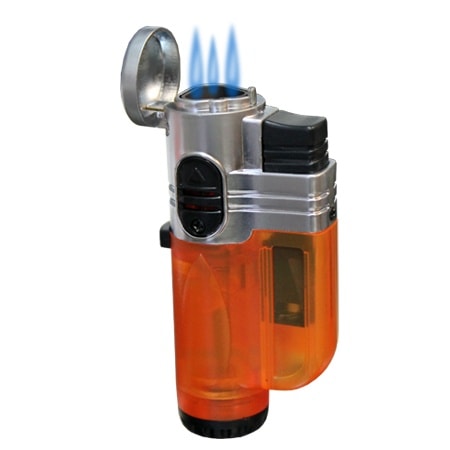 Cigar Tubes
Cigar tubes are useful for carrying cigars while on the move. These metal tubes help cigars keep the proper amount of humidity and thus so ensuring that they remain fresh. Cigar tubes also guard your cigars from physical damage such as being squashed or broken while they sit in your pocket or bag.
St. Dupont makes extremely stylish cigar tubes, with dark bodies and gold or silver fittings for contrast. Besides their artistry, these tubes are practical, coming in either single or double configurations. These items are a must-have for the cigar aficionado frequently "on the go."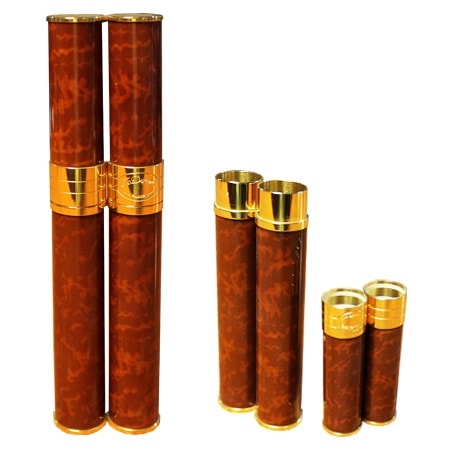 Ashtrays
Ashtrays are a practical way to contain ash and prevent a mess. They can add to the cigar smoking experience with their decorative appearance. For example, Trinidad's crystal ashtray will fit in any room due to its beautiful design. Xicar's ashtrays are so elegant and modern that they are suitable for any contemporary styled rooms. Cohiba's square wooden cutter ashtray set features a regal, rich, satiny wooden construction and a convenient drawer to keep a cutter or two handy. This item is luxurious and accommodates up to four cigars. Thi is ideal for small gatherings both formal and informal.