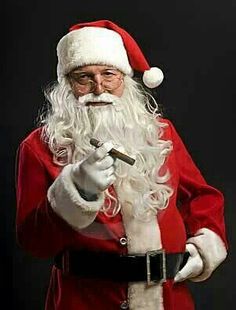 Twas the smoke before Christmas, and all through land,
adults were celebrating with cigars in their hands!
They'd been delivered by old Saint Nick himself.
Made with the finest tobacco, hand rolled by an elf!
The tobacco was prime, the aroma quite rich.
These stogies were powerful, they had such a kick!
Each one was a marvel and selected with care.
To make sure those who smoked it did so with flair!
Adults who smoked them had a smile wide across their face
Not one had a hint of sadness, not even a trace!
They smoked together while under the stars
While thinking of loved ones both near and far
Saint Nick was pleased with all the joy he saw
It was more than he imagined, it filled him with awe
As he readied to leave to, he gave one final note
Merry Christmas to all, and to all a great smoke!
Looking for a great smoke for the holidays? Check out our sampler page!
Looking where to buy cigars? Mike's delivers near and far!